Menaye Donkor - Royal Stool Bearer and Title Holder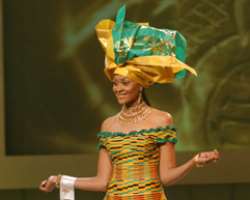 Former Miss Ghana Universe 2004 and member of a royal family.
For some people, Menaye Donkor is the pretty face now associated with Sulley Muntari, the football player in the Barclay Premier League, she was Miss Ghana Universe in 2004. She has a bachelor's degree in marketing from York University.
She has been a royal stool bearer for her paternal grandmother, who is the Queenmother of Agona Asafo (this privilege was assigned to her as the last granddaughter in the family), started a charity called the Menaye Charity Foundation, and opened a the Menaye International School.
She is surprisingly down to earth and is dedicated to making a difference to all those that she comes into contact with. Sulley Muntari spotted her at a Czech game against Ghana and it was a heart stopping moment for him. He wooed her and is one of the largest contributors to her charities.