Jude: My Work Revolves Around My Children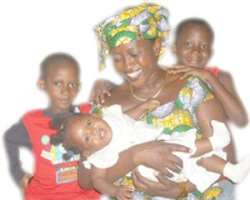 Jude Lomotey is a gospel artiste, national treasurer for the Musicians Union of Ghana (MUSIGA) and a social worker who greatly enjoys doing something else: taking care of her three children- Rhoda Naa Adoley Lomotey, nine, Jethro Nii Addokwei Lomotey, six and six months old Lois Naa Shidaa Adorkor Lomotey.
2003 was an extremely busy year for Jude. That was when she came out with W'agye Me Aboso and travelled across the country to perform. There were times her husband had to be in town with their children so they could be together.

That sort of scenario has not been in play for a few years now but she finds her hands still full most of the time. Effectively combining her different roles, she says, boils down to discipline.
"I have worked out an itinerary for myself and I do my best to stick it. It revolves around the children because I like to give them the best care possible."

Though performances are far and between these days for Jude, she spends some time crafting new songs and imparting relevant bits of her knowledge in social work to fellow musicians.

She is particularly interested in how musicians fare when they are no longer in the limelight and that involves scheduled meetings with groups of musicians.

"Music is not just entertainment. It is also about survival and ensuring some dignity for yourself. I tell lots of older musicians that once they are alive, it is not late to start putting structures in place for a decent life."

She sees herself as a sort of motivational person, drawing on a combination of her professional studies in accounting and social work and grasp of Christian principles.
She counts herself lucky to have a supportive husband, mother and sisters-in-law who are always willing to help care for the children when she is busy with other things.

"I'm just blessed to have all those people around me. We are all one big family so the stress of having to do everything for the children all by myself is reduced."

During the 2003 International Women's Day Celebration in New York, the then United Nations Secretary-General, Kofi Annan, noted the important role women plai in society and said: "Study after study has shown that there is no effective strategy in which women do not play a central role."

Some women have roles to play in Jude bringing up her children and she herself is constantly appreciating the central role she has to play to keep her family together and also help some of her colleague musicians hold on more firmly to the future.

Story by Nii Laryea Korley