Four Policemen, Four Soldiers Murdered In Bayelsa Terror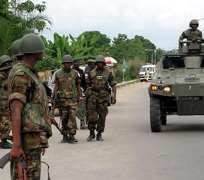 BAYELSA, March 02, (THEWILL) - The sheer luck that ensured the preservation of lives in two attempted bombings at two different locations in Yenagoa, the Bayelsa State capital on Thursday could not re-enact itself few hours later, as gun-wielding gangsters slay eight uniformed men in two separate orgies of attack clearly targeted at security agencies.
Early Thursday morning, residents of Opolo and Customs Road were rattled by explosions that only destroyed buildings. The Opolo blast occurred at about 12.45am near Diete Koki Memorial Hospital just beside the state headquarters of the Joint Task Force (JTF). The explosive, which was thrown close to a transformer, damaged the roof of the security building of the hospital and left holes in the concrete floor.
It followed the Customs Road explosion, which had occurred some three hours earlier. An unidentified person speeding past the scene on a motorcycle reportedly threw the dynamite.
However, eight men, including a Lieutenant-Colonel, were killed when armed men attacked the state's waterways. Four soldiers attached to the Operation Pulo Shield of the JTF were shot between Brass and Ogbia waterways by men on three speedboats. The soldiers were reportedly headed for Ogbia waterside on a speedboat before they were buttonholed at a point popularly called Right Hand on the waterways.
No sooner had the panic generated by those gunshots quelled than armed bandits attacked four marine policemen at a police post along the Nembe waterways, gunning all down. It was suspected that both attacks were orchestrated by the same gang.
Police sources said the assailants disguised as travellers but opened fire on the officers as they approached the checkpoint. Public Relations Officer of the Police in the state, Mr. Egoavoen Emokpai, confirmed the deaths, and promised that the culprits would be apprehended.
Media Coordinator of the JTF, Lt. Col. Timothy Anthigha said at press time that reports of the attacks were still scanty and detailed information was sill being awaited. "We don't have any information yet on the casualties, but we are waiting on the unit closest to the scene of the incident," he said.