I had been waiting for the right time - Juliet Ibrahim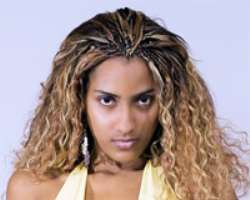 Juliet Ibrahim is the fresh young face of "Ghollywood". Only recently joining our Navankie trio, Actress Juliet Ibrahim is already filming with some of the biggest names in Nollywood.In a short but exclusive interview, she talks about film, life and Majid Micheal!
Ghanasent: When Did you Start acting?
Juliet: About three years ago but it was a couple of TV series and the producers still haven't released them yet. Crime to Christ is my first movie.
Ghanasent: What motivated you?
Juliet: I had been waiting for the right time to come out in the industry but was waiting til it improves as well as the right role. After watching movies like Princess Tyra and Mummy's Daughter, I was like, "now is the time".
Ghanasent: What goes on behind the screen?
Juliet: I work and go to school. I am employed in a beauty salon and I'm studying Advertising and Marketing.
Ghanasent: Do You Speak Twi?
Juliet: I speak a bit of twi but understand it better cus I didn't grow up in Ghana. I grew up in Ivory Coast and Lebanon. I speak French fluently.
Ghanasent: What other movies do you have coming up?
Juliet: I'm presently doing a movie with the Nigerian Guy who portrayed Osufia in London alongside Ini Edo. It's fun.
** On the question of Majid, Is there anything going on between the two of you?
Juliet: I'm not in a relationship with Magid and have never been. He is married and his wife is pregnant now.She is a good friend.
Interview: tafyaterse/ Questions: Moesha
Acting is like a fine wine, it gets better and better with time. We hope to see more great performances from Juliet Ibrahim.