Miss Ghana Fights Fistula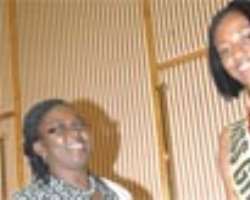 SIX MONTHS ago, Ms. Frances Judith Tekyi-Mensah had never heard of Obstetric Fistula (OF).
Today, Ghana's beauty queen is the country's biggest advocate, fighting to stop the disorder that destroys the lives of thousands of expectant mothers who do not receive proper medical attention during a prolonged childbirth.
"The first time I saw the word, I thought it was something nice," admitted Ms. Tekyi-Mensah, who has been researching on the disorder since she claimed the Miss Ghana 2007 title in March. "Once I read about it, I realized it was devastating."
Obstetric Fistula (OF) occurs during labour when a rupture develops in the birth canal causing incontinence and in most cases a stillborn baby is the result.
Victims are left to fend for themselves, living with a constant stream of urine and faeces, battling infections and potentially life-threatening diseases.
"I don't see a reason for it to exist here when there is a cure," Miss Ghana 2007 said in an exclusive interview with DAILY GUIDE.
"The key is to end it in Ghana," she added.
With sponsorship from the United Nations Population Fund (UNFPA), over the next year, Ms Tekyi-Mensah, a Psychology student at the University of Ghana, Legon, will travel across the length and breadth of the country building awareness, educating, finding and consoling those who fall prey to OF.
"I read about what other beauty queens had done with HIV, Malaria, etc, and I didn't want to do the same thing," she said. "I always wanted to work with mothers and children."
Ms. Tekyi-Mensah explained that this passion comes from her mother who, as a nurse, spent a great deal of time educating her children about maternal and reproductive health.
"My mother told me I am going to have to be strong to deal with seeing this," she said. "That made me think twice about whether I can handle it. But I know I can do it."
Following her university exams, the beauty queen will travel up north in December to visit the Baptist Hospital in Nalerigu. There she will meet with victims, their families and witness a surgery, which costs GH¢300 including pre and post medical care.
From there, Miss Ghana 2007 will tour the Northern Region extensively, hosting fundraising events and seeking out other opportunities to garner attention to support her cause.
"I want to go far with it," she said, adding that she has set-up a trust fund for monetary donations. "I have a time-frame of one year, but if it is not done I will still continue to keep up the work."

She asked Ghanaians to visit www.missghana2007.org for more information.
By Jos Garneo Cephas & Sophie Nicholls-JHR