Miss Malaika Receives Prizes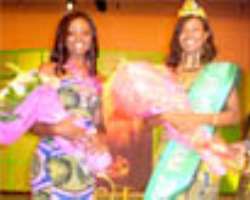 WINNERS OF this year's Miss Malaika pageant and five other delegates have been presented with their prize packages by Charterhouse, organizers of the pageant.
The presentation ceremony was held at the Alisa Hotel in Accra last Thursday. In all, eight out of the ten delegates had their prizes as two of them could not make it to the ceremony.
20-year-old medical student, Laurie Naa Lamle Lawson, the new Miss Malaika had the keys to her KIA Cerato car from Rana Motors. She as well received a cheque for GH¢2000, a set of living room furniture as well as the Miss Malaika crown.
First and second runners-up Millicent Owusu and Akosua Sasu received GH¢700 and GH¢500 respectively. The remaining five delegates left with GH¢400 each.
Each of the contestants as well had wax prints from ABC Wax, gold signet jewelry from Asanska Jewelry and other consolation prizes from sponsors such as Allure Beauty Palace, Ghandour Cosmetics and others.
The historic ceremony, which was witnessed by a section of the Ghanaian media saw the premiering of the Miss Malaika final event held at the National Theater in Accra on Saturday November 3.
There was also more to party with as drinks and tasty grills were in abundance.
Speaking at the ceremony, Mr. George Sanda, a representative of Mobile Telecommunication Network (MTN), lead sponsors of Miss Malaika, congratulated the delegates for the unique talents they exhibited and the positive influence they had on society.
For the winners, he asked them to enjoy their reign and influence society constructively everywhere they go.
Miss Malaika has undoubtedly become one of the major interesting events on the Ghanaian entertainment calendar.
On the African continent, Miss Malaika is recognized as an internationally-acclaimed event that brings out the best in young African women in Ghana.
It seeks to locate, groom and present at the international front a young, dynamic, intelligent and hardworking Ghanaian lady to compete with others at the Miss Malaika international pageant.
By Francis Addo & George Clifford-Owusu