"AFRICAN WOMEN MUST BE RESPECTED"- MISS AFRICA QUEEN 2007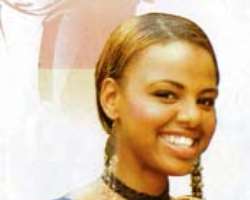 After being crowned the Miss Africa Queen 2007 some few weeks back, Nomfundo Radebe went back to her country to proclaim the good tidings to her nation. Last week I was at home watching one of my favorite cartoons on TV when I had a call from an anonymous person 'gossiping' to me that the pretty girl is in TOWN. I did my best to locate her one evening (please don't ask me where?) and had this intriguing interview with the 'Queen'. Just put on your reading glasses and grab a cup of juice and let's go.
Weekly Fylla: Is great to have you back in Ghana...welcome home?
N.R: Thank you.
Weekly Fylla: Can you tell me the meaning of your name Nomfundo?
N.R: The name is Maureen Nomfundo Ebagiwa and Nomfundo means Education
Weekly Fylla: I see ...So where was this queen born?
N.R: I was born in South Africa precisely in the famous land of Soweto.
Weekly Fylla: After annexing the enviable crown at the AICC, what have you being doing?
N.R: Basically I've being traveling around some few Africa countries with the organizers of the pageant and I mean Madam Ayesha Passah Zynab and my chaperon Laura Passah.
Weekly Fylla: If you say few Africa Countries, can you tell me which Africa countries you've being so far?
N.R: We've been to Benin, Niger and Gambia. The first runner-up Amie Kahn is from Gambia and we went there to officially introduce her. We held a press conference which was addressed by Amie
Kahn and of course supported by myself, Ayesha and her manageress. Subsequently, a dinner was held in our honor after which we went to meet the president and his ministers at the presidency.
Weekly Fylla: You mean you meet with President Yahya Jammeh and his ministers?
N.R: Yes, and it was a great feeling.
Weekly Fylla: Tell me more about your meeting with the President of Gambia?
N.R: In fact my eyes can't describe the beauty of his palace and mouth can't also tell of the feeling within me. It was so fascinating, shocking, astounding and astonishing. Actually we did not plan of meeting the president, but we were told a day before we will depart from Gambia that the President saw us on National Television and he was so impressed about the performance of Amie Kahn and also the concept of the Miss Africa Queen Pageant, so he requested to see us.
Weekly Fylla: So what Happen?
N.R: Well as I told you we were surprised but very delighted to meet him. He interacted with us together with some of his ministers. It was more like a soiree and he expressed great joy about the pageant; congratulated her country representative whom he said has made him and the Nation as whole very proud. He also congratulated Miss Ayesha Passah for this laudable idea and promised that he will sponsor fifteen girls (15) to the PHD level of their education at any country of their choice adding that provided the girls will come back to Africa to work.
Weekly Fylla: You are dammed serious; Yahyah Jammeh promised fifteen girls' scholarships to PHD level?
N.R: Not only did he promise that he also presented Amie Kahn with a 4x4 luxurious car and gave me a gold plaque which looks like an arrow with my picture nicely positioned in it.
Weekly Fylla: Wow! That is great.
N.R: Let me say this, and please am not a politician neither do I want to be seen as one, but I've heard a lot about this man in Africa both good things and bad things, I can remember Amie told me a lot about her president. But as the saying goes seeing is believing! I saw this man and what I can confidently say about him is that he his very affable and easy-going. At a point in time I began to wonder if this is the man I've been reading in the newspapers or hearing on radio about? Can you believe this man cure AIDS. They took us to the center where the patients are and I saw a lot of people who have come to the center to get relived. It was such a wonderful experience in Gambia.
Weekly Fylla: Now let come back to the contest, you won in South Africa and as you were coming to Ghana to compete in the grand finale with nine (9) other girls, what was on your mind?
N.R: Well let me say I was not thinking about winning and I remember telling myself am going to have fun and to learn new things in life. I always believe that in a contest the one who wins is not the only true winner but everybody who participated is a winner. I found the whole contest as a privilege to showcase my talent, culture and to foster unity.
Weekly Fylla: So where you surprise you won?
N.R: Yes and no, and why did I say that. No because as the competition progressed I saw the girls, their performances and their output. I also saw how some of the girls were taking this whole contest, I then realized if I work a little harder I can win so I can say I'm not very surprised. Yes because although I did my best I also think some of the girls also did very well and they deserved to win too.
Weekly Fylla: The Dance you did that day what is it called?
N.R: Beauty really comes with talent and that was what I exhibited. It is called UKUTA or Zulu Dance, and it is performed by the people of ZULU. I didn't do it well though but am proud of my culture.
Weekly Fylla: So eventually you were crowned Miss Africa Queen 2007. On behalf of Weekly Fylla we congratulate you.
N.R: Thank You
Weekly Fylla: Can you confirm to me if you have received all your prizes?
N.R: Yes. I can confidently and contentedly say I have received everything promised me and am very grateful to the organizers.
Weekly Fylla: Any contestant who wins this pageant has to embark on a specific project in her country and for that mater Africa as a whole. Your predecessor Miss Monica Mbilla embark on sickle cell and Female Genital Mutilation (FGM), Tell me what are you going to do with your crown?
N.R: I've taken upon myself to empower women of Africa. And I called this project IMBOKOD meaning you strike a woman you strike a rock. I am so passionate when it comes to issues concerning women. And you know in Africa women are being abused by men, children and women themselves. I've decided to embark on this noble journey to propagate the gospel of women empowerment and emancipation. I believe Africa women have being sidelined for far too long and am taking this privilege in my own small way to aide the African women to believe in themselves.
Weekly Fylla: Speaking to the organizers of the pageant (Miss Africa Queen) they told me their goal is to see Miss Africa Queen addressing the Africa Union (AU). Do you think it's practicable?
N.R: I strongly believe this dream will come true one day. Africa is gradually coming to the realization that women's place is not only limited to the kitchen but can perform and do exploits if given the platform of recognition and respect. Believe you me if we all come to support this commendable idea and stop the pull him down (P.H.D) syndrome but rather support each other's dream like this, mark my words this goal will be achieved.
Weekly Fylla: Nomfundo, tell me how old are you?
N.R: I am Eighteen (18) years old.
Weekly Fylla: Are you still in school?
N.R: Yes. I'm currently in my final stage in high school in South Africa.
Weekly Fylla: What do you do in your leisure time?
N.R: I imitate people, listen to music and sometime play netball.
Weekly Fylla: What kind of music do you listen to?
N.R: Classic and R&B
Weekly Fylla: Who is your favorite R&B Artist?
N.R: Brandy.
Weekly Fylla: And your preferred Classic Artist?
N.R: Josh Groban
Weekly Fylla: Do you have a boyfriend?
N.R: NO
Weekly Fylla: Why?
N.R: Why...eeeeem …what should I say, I'm not ready.
Weekly Fylla: Nomfundo, your parting words?
N.R: I first have to say thank God for everything, I also want to say a very big thank you to Miss
Ayesha Passah Zynab, to my chaperon Miss Laura Passah who has being very supportive of me, to the organizers of the show, to all the sponsors, my parents, I love them very much for being there for me and to all my fans I say a big thank you not for getting Weekly Fylla. Thank you very much
Weekly Fylla. Nomfundo is great talking to you
N.R: It is a pleasure.