KNOCK! KNOCK! WHO IS THAT? FUEL SUBSIDY AND/OR BOKO HARAM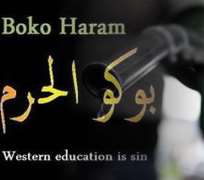 Nigerians in the Diaspora stood up from London to Washington and New York to Atlanta with the simple demand on the President Goodluck Jonathan's administration. Most of us wanted the revision of petroleum prices back to the original 65naira per litre. We were disappointed at the insensitivity of the Nigerian government towards the regular and poor people of the United Nations of Nigeria. Some of us marched in solidarity with our brothers and sisters at home and wondered why there was an imposition of petroleum taxes on people who could least afford it.
Principally, the petroleum industry cabals within and outside of the governments are living off the bounties of Niger Delta oil productions. Delighted as some of us were for the unity that those back home displayed on the Pseudo Fuel subsidy removal issue in Lagos, Abuja, and Kaduna, majority of us were mortified by other developments in the Disunited Nations of Nigeria. Our concerns were especially on the escalating and provocative carnages in northern Nigeria.
Consequently, some Nigerian Diasporans conjectured about the mass protest in northern Nigeria against the sudden inhumane petroleum price increases which occurred against the backdrop of systematic repeated mass murders. We have long speculated about the lack of critical and proactive propositions by the Sultan of Sokoto and President General of the Jamatul Nasril Islam (JNI) (the leader of the Nigeria Muslim community), after repeated pogrom in places like Borno, Niger, Plateau, Bauchi, Kebbi, and Adamawa states.
Indeed we became angered by the tacit support that the regional Boko Haram organization has enjoyed in the north. Some of these supports were in the ambivalent pronouncements by the Sultan of Sokoto Alhaji Muhammad Sa'ad Abubakar III. Others like Mallam Nuhu Ribadu have disingenuously characterized Boko Haram terrorist group as rebels.
However, most Nigerians know from our histories, personal experiences, and the self reports from Boko Haram members that these current killing sprees are the continuation of decades of senseless massacres. Our recorded observations exposes the fanatical hegemonic alignment between some northern elites, some regular, and some poor northerners who have waged war under the umbrella of ethnicity, politics, religion, Sharia, fashion dress codes, beauty pageants, elections, indigenousness, segregation, Afghanistan, Iraq, and petty disagreements among others.
The following are excerpts of the personal experiences of one of our colleagues from the Occupy Nigerian Movement- Washington DC. These revelations came during our deliberations on how to address our various national crises.
Estella Ogbonna: In the spirit of our discussions let me say this, if you have never lived inside a hot, northern state, believe me, you will not understand. Keep in mind, that I actually prefer being termed a Hausa woman. Because, take away the religious intolerance prevalent in that area, the Hausa man/woman is more trustworthy to me, than an Igbo man/woman and I am Igbo by tribe.
I've lived through religious riots over the years; I did my National Youth Service Corp NYSC in the very hot Yobe State. I lived there, and I dared to start my MBA at University of Maiduguri, with just one semester to graduate, I had to run away from Borno State, after a close encounter with the religious murderers. I am alive today because an Alhaja who owned a restaurant there in Maiduguri risked her life to drag us (21) females from the south, who were wearing trousers, blouses, and obviously not Muslim into her restaurant.
We found out she used to be a Christian before she married the Alhaji and changed her religion. We hid inside her inner room for 3days. We could not sleep due to the chants from the mob asking her to bring us 'infidels' out to be murdered like they did others on the streets. She refused and the Islamic rule forbade them from rushing into her room. Those were 3 worst days of my life. The only food we ate was the leftovers from her restaurant.
Luckily the MOPOL (special police) came out to the streets on the 3rd day. By the 4th day, the hajia gave all us wrappers and scarves for us to dress up like Muslims, and that is how we ran into the night. I returned to Damaturu, Yobe State, and the next day, I took a night bus to Onitsha, Anambra State (of course, I stood all the way to Onitsha because all luxurious buses from Borno and Yobe were filled to capacity with southerners running to the east. So, my dear, living in that sort of environment, "within one country" is not working take it from me, I know.
I spent all my senior secondary school days in Kano State with 'plane cash' in my hand. My parents gave us money so that we could run to the airport and take the next flight out of Kano State anytime we heard 'Allahu Akbar' (their chants to start beheading southerners). My secondary school turned into a refugee camp for my friends and family (while I was in school), during the Reinhard Bonnke riots in the 1990s. Christians were being killed in Kano State just because an evangelist was coming for a crusade, not that he was forcing them to convert, and he was coming for Christians. I can go on and on my dear. This is not about Igbos Vs Hausas because I saw the lifeless bodies of young girls from Ondo, Bendel (Edo), Lagos etc with their breasts sliced off by these hooligans. Once they start killing, they do not look for Igbos alone, they kill all southerners. They even killed Yoruba Muslims for crying out loud.
Sure, I've heard so many stories about the Biafra, I was not there, and I am realistic enough to agree that our parents would tell us the gist from their own angle.
That is the more reason I wish Ojukwu had said everything about that war before dying. One story that never comes out often about Biafran war is the genocide their soldiers committed. How they raped and slaughtered the Rivers State women and children. Sure, it was all part of war atrocities but keep in mind that some of those Biafran war rapists are now 'respectable' parents to lots of Igbo children.
My point is that Nigeria has reached that point of no togetherness. After 51years, what the colonialists joined together for confusion is still confusing. We can divide and still be together. Nigeria as one nation is a failed matter. We know Boko Haram is a machinery of the disgruntled northern losers of the last election. I am one to say that it is possible that President Goodluck Jonathan is being messed up by the losers, but, he would be the best President in the history of Nigeria if he stands his ground and do things for the people now. For all we know, perhaps his wife or kids might be kidnapped or under threat for him to 'play' their way, but, he should know that being a King/President is a sacrificial seat. Let that conference take place, so we weigh everything and decide once and for all, if Nigeria should remain as one.
During the Sovereign National Conference if we agree on continuing this unity, then some house rules have to be put in place. I would like Nigeria to be one, I have life-time friends from the North, I have relations married to northerners etc. But instead of citizens to live scared in their own country, they might as well break off. I bet there would be more tolerance if an Edo man gets a visa to travel to Kano State, International laws would give him more safety, besides we'll all be part of ECOWAS, so, visas may not be needed.
After reading the aforementioned narrative few weeks ago I could not help but ponder the question- Knock! Knock! Who is that? Sultan of Sokoto Who? The same quandary can also be applied to statements from the conservative Arewa Consultative Forum ACF and progressives in the north such as Colonel Abubakar D. Umar (Rtd.). The proposed solution by the Sultan of Sokoto to the Boko Haram pogrom is the re-introduction of an armed and fully recognized Native Police. Col. Umar indicts southeastern leaders for asking their people to return to some relative safety and security in the south.
Maybe Alhaji Muhammad Sa'ad Abubakar III ought to be reminded that Boko Haram is an amalgamation of remnants of some Nigerian military personnel of mostly northern or Muslim extractions, the foot soldiers of the Sharia imposition, and poorly training graduates from the madrasas. The foot soldiers of Boko Haram are elements in the north that have slaughtered innocent people time and time again due to flimsiest of reasons. Some of these soldiers that got training in our Nigerian Defense Academies with our national revenues, but have treasonously and callously turned their guns against the citizenry of Nigeria.
In the case of Mr. Abubakar the pertinent question is when is enough enough? We realize that Boko Haram mass killings includes other Muslims but how do other people remain in the north when it is apparent that the Sultan and other northern elders/leaders are compromised and dare not speak truth so that justice will prevail? How can the Igbo or any other southerners be expected to remain in northern Nigeria when ACF wants guaranteed security and immunity for the leadership of Boko Haram? Why are northerners pointing fingers elsewhere while Boko Haram terrorist are protected in safe houses by their families, friends, and communities whilst the country laments?
Some Nigerians in the Diaspora compare the on-going atrocities in northern Nigeria to the prevailing situations in the West when mainly conservative politicians and parties incite racial, ethnic, and religious animus. They blame minorities such as African Diasporas, immigrants, Latinos, Arabs/Muslims, Turks, Romas, Middle easterners, for their self inflected economic, moral, and political problems. Boko Haram organization is the contemplated and executed plague of the Hausa, Fulani, and Kanuri intelligential who have the blood of innocent Nigerians and United Nations staffs on their hands.
African American civil rights leader Rev. Al Sharpton said the Republicans are like children who ate the blueberry pie and after catching them chewing, with crumbs on their hands and their mouths, they still boldly look you in the eyes and denial the overwhelming evidences. The Nigerian northern so-called elites have their hands saturated in the blood of innocent Traditionalist, Christians, and Muslims. They cannot wipe away or disguise the flaming irrefutable preponderant and circumstantial evidences, despite how hard they try.

We need to ask the Sultan of Sokoto, the Northern Elders, Governors, and Emirs why they have not used their bully pulpits to march and organize against repeated massacres in the north. There are massive Friday prayers in their mosques that have been the origins of hate crimes and crime against humanity. How come these same venues have not been used to rally the northern people towards truth and justice? The Nigerian Diaspora is of the opinion that we need to reevaluate the total disdain for the sanctity of human lives in Africa and particularly in Nigeria. Our peoples sponsored and promoted Sovereign National Conference will be essential in dealing with our numerous national crises.
Dedicate to- The victims, survivals, displaced persons, and families of all the decade long northern Nigerian terrorist attacks.
Written by Nnamdi F. Akwada MSW, BA. a Social Justice Activist
Estella Ogbonna, Activist Occupy Nigeria- Washington DC
Disclaimer:

"The views/contents expressed in this article are the sole responsibility of

thewillnigeria.com

and do not necessarily reflect those of The Nigerian Voice. The Nigerian Voice will not be responsible or liable for any inaccurate or incorrect statements contained in this article."
Articles by thewillnigeria.com