SENEGAL OPPOSITION ACTIVIST ALIOUNE TINE FREED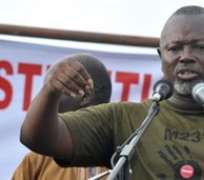 Alioune Tine has been a staunch critic of President Abdoulaye Wade's bid for a third term in office
Prominent Senegalese opposition activist Alioune Tine has been released after spending two days in detention.
Mr Tine is a member of the opposition June 23 Movement (M23), formed after countrywide protests last year against incumbent President Abdoulaye Wade's plans to run for a third term.
Mr Tine told the AFP agency he had been freed without charge.
Last week saw protests, in part organised by M23, turn violent after a court ruled Mr Wade's bid was legal.
Mr Tine told AFP that police had asked him "many questions on the demonstrations" planned by M23.
On Monday, police reportedly shot and killed two people in Senegal during anti-Wade protests.
Senegal's constitution has a two-term limit but officials argued this does not include Mr Wade's first term, which began before the clause was adopted.
At the same time as allowing Mr Wade to stand, the constitutional court ruled singer Youssou N'Dour and two other opposition candidates could not run.
Opposition parties and activists have called for "national resistance" against Mr Wade's bid.
Elections are due on 26 February.