BREAKING NEWS: Al-Mustapha, Sofola Senteced Death By Hanging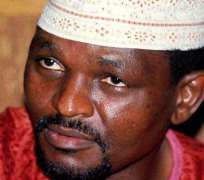 Today, Monday January 30, a Lagos High Court sitting at Igbosere sentenced former Chief Security Officer to late Gen Abacha, Major Hamza Al-Mustapha to death by hanging for the murder of late Kudirat Abiola.
Also convicted to death by hanging was Alhaji Sofola Lateef, Kudirat's Protocol Officer. Sofola was found guilty of murder of Kudirat by revealing her movement to her assailants.
The wife of acclaimed winner of 1993 Presidential election, Alhaja Kudirat Abiola was killed on June 4, 1996 in Lagos.
Justice Lawal Pedro convicted Al-Mustapha and Sofola for murder of Kudirat Abiola.
The case is the longest criminal case in Nigeria. It lasted 12 years to come into conclusion.