I've no hand in Monalisa's failed marriage–Emem Isong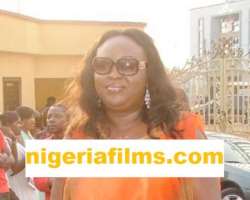 Emem Isong is one producer whose name precedes her. Ever since she came into Nollywood, she has remained behind the cameras leaving her works to speak for her. Shy and somehow a loner, Emem as she is better known to friends has carved a niche for herself in making good movies. In this interview with Atim Ikpeme (www.nollywoodgists.com) she speaks on how she left banking for acting, being a mother, among other things. Excerpts…
How has the year 2009 been for you?

I will say it has been a good year and I really thank God for that. My business has grown tremendously in this year 2009.

You just premiered Nollywood Hustlers and Guilty Pleasures, why did you get involved in the two films?

For Nollywood Hustler I decided to do something different from what I have been used to and this one is comedy, though I had done comedy in my local dialect titled Uyai, this one was something I needed to explore using Nollywood itself as a theme to tell the story.
Guilty Pleasures is my usual love story, I had inspiration for it and I decided to do it. It is meant to show that one should pay attention to their relationships because anything can happen.

What interests you in Nollywood?

I have always wanted to be in the entertainment industry. I knew right from when I was a kid because I was hooked on T.V and that made me want to read Theatre Arts at the university, which was closest to what entertainment was at that time. At the time I went into the university there was nothing like Nollywood anyway but that was my passion.
And when I came out of the university I worked in a bank briefly and when I saw the first movie, Living in Bondage, that gave me courage so I quit my job and decided to join the industry but not as an actress.
I have never really been interested in acting, I only acted in school to fulfill some of my course work, I like being behind the scenes, I like creating things.

Did you have this fear of the unknown when you quit banking?

I was scared, who wouldn't be? But for me, everything is about passion. If I am passionate about something, I really don't care about anything else. If I do that thing I am passionate about, I will be satisfied.
It was about happiness and job satisfaction. I don't want to wake up in the morning and not feel like going to work. That is why I decided to do what I enjoy doing so that whether the money comes or not, I am happy.

How comfortable are you being a producer?

I actually wanted my work to speak for me. I am not one of those that will come out and start talking about myself when I have not really achieved anything. I wanted people like you to seek me out after watching what I have been able to do. I wanted to be judged by the merits of my work.
Secondly, I am really shy, I don't like publicity much but at this point in time, because I am into a lot of things I have to come out.
I am into marketing, I have a licensed distribution company so I market my films myself and I do premiers of my movies once in a while so it's inevitable that I have to do publicity.

How easy was it when you started as a woman?

I have always said there is no male and no female, a producer is a producer. I never looked at the gender aspect of it and it has never occurred to me for one day. Whatever I do, I put my whole life into it. The beginning of anything is not always easy.
It was extremely difficult for me at the beginning and I was young. For a 23 year old, that was how old I was to raise money or have the confidence of somebody to get N2million to do a project was not easy. But I was determined and with whatever little money I could gather, I was able to make my first film.

You are doing movies in Ibibio language, is there a particular reason?

First and foremost, I want to promote my culture and preserve my language because with all the civilization, a lot of kids do not speak their languages and if we continue in this manner, everything will be extinct. I believe that with language movies, we will be able to show our history to the young people. That is why I am into language movies.
I love my culture, I love my language and I have promised myself that I must do one language movie a year.
The reception has been good. The support is not much from people from my place but they buy the films and that is good for me. I wish we had more investors from that area but sad to say there is none.

Setting up an academy to train people from Akwa Ibom

I have an academy that is based in Lagos at the moment and it is open to people from all walks of life, all tribes. If my people come they are very welcome. I would love to have my people come because when I went to Akwa Ibom and did the audition for a movie, I was impressed and amazed at the talent I saw there because we have great talent there and I wish I could help in developing that but it is not easy doing
this all alone.
Having to do it all by myself financially, it will be a nice thing to have a branch of the academy down there now but that will happen eventually.

What happened to the lead actress in Ekaette?

I haven't seen her and it's all about who is available. If you are available and you happen to be near me when I am casting, definitely I will give you a chance. Its not as if I go out of my way to pin point anybody, if I see talent and you are around when I am working, I give you a chance.
But then you've got to persevere. She is good but I don't know where she is right now. She has worked with me twice after that in Asaba and if I see her now and she is interested in working, I will work with her.

How easy is it combining your career and being a single mother?

I don't usually like the term single mother, I just leave it at being a mother and it is not easy. You just have to learn to prioritize and for me, family comes first in whatever I do and I try my best to arrange my work schedule in such a way that family does not suffer.
Thank God for the flexibility of our work, I can write at anytime I want or anywhere and it does not affect my duty towards my child and any of my family members.
The only snag there is when I have to travel for festivals, awards and other things but then again, sometimes if I have to, I take my child along, if I don't, I make adequate arrangements.

React on allegation that you were part of those that made Monalisa Chinda leave her husband

When people say that I wonder if it is not sheer stupidity, isn't that sheer stupidity because how is it possible for one human being to make another do what he or she doesn't want to do, its crazy.
Sorry to say it but those who thought that I had anything to do with Monalisa leaving her husband are very myopic and stupid.
When something happens why point fingers at others? You look within yourself and find out what and where the problem is, instead of putting the blame on people. We all have our issues and we don't look for other people to blame.
It was laughable to me. I wasn't the only one accused, other actresses were being accused and I think it was very stupid and any responsible person reading that should dismiss it because it is stupid.

Staying above scandals
I am not doing anything to stay above scandals. I am more of a loner, I don't go out much, and I am ian ntrovert. Perhaps, because they have not seen me, that is why they have nothing to say about me. But really, in the business that we are in, you can't avoid that but one really has to live above that.
It doesn't really bother me as long as I am truthful to God, myself and my family that is all that matters.

Are you looking at getting married soon?

When God says yes, I will, it's God that determines everything. But then, I really don't like to talk about my personal life on the pages of newspaper.

Nollywood

I have often said that Nollywood is a phenomenon we should thank God for. We are not claiming to be perfect but we are doing something worthy of note. We have some crappy movies and some good movies here and there, we are still growing but I believe that we will get there.
It's a bit chaotic at the moment because distribution is not right, we didn't start it the right way, if I must say that. And that is the peculiar nature of Nigeria, funny things happen here so why will one expect less from Nollywood? It's unfortunate that it is happening that way.
I am not bothered though, I love Nollywood, I am very pro-Nollywood and I will continue to make my films and we will continue to try to improve as we go on.
As for awards, I don't make movies because of awards, it will be nice to be applauded but I think we should learn to celebrate ourselves and I commend any award that comes out and celebrates Nollywood. I am not saying we should celebrate mediocrity but we should celebrate ourselves so that we can strive to do better.

What are you doing so your films don't get pirated?

It's a major problem that all of us practitioners face, piracy will always be there, we are just praying and hoping the government will do something about it because if they are not serious about it there is nothing we the practitioners can do.
People continue to pirate your movies and there is nothing that is being done to them so it's time the government does something about it rather than channel money to going for festivals and other things. They should look inwards and try to make Nollywood conducive and interesting for practitioners to make movies and make money. It's very difficult and frustrating now, you make a movie and the next week you see it everywhere.

Lack of professionalism in Nollywood

I agree there is certain lack of professionalism in Nollywood but then, Nollywood was like an accident, everybody stumbled into it. The film industry was practically dead before now so we should give kudos to those who came out and tried to revive it professionals or no professionals.
The so called professionals that are talking should have brought their professionalism to bear and created something out of nothing like the unprofessional have done.
In the process of my work, I have attended courses here and there and that is what a lot of my colleagues are doing, that is the only way to grow. It is high time the professionals come out and do something and let us see how professional they really are.
Prospects for 2010
I will stick to producing, I can't act but I am going to concentrate more on my academy, which is to train. I will like to not just train people but myself also because we are going to bring in professionals from outside the country and within the country. We need this training for us to grow.
After the training we will make one or two movies but I may not make as much as I have made this year because I want to concentrate on training.
Story by http://nollywoodgists.com