Pure Water sellers make more profit than movie producers in Nigeria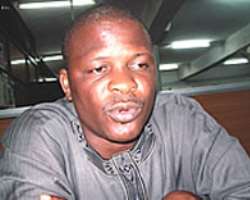 Yemi Amodu is well-known in the nation's entertainment industry. A prolific director, producer and editor, he shares his experience in the industry in this chat with David Ajiboye. Excerpts:
Tell us who you are and how you get into movie production?
My name is Adeyemi Amodu. I was born and bred in Ibadan. After my primary and secondary education, I went for Diploma in performing art, as a step to fulfilling my dreams in the movie industry. I am currently pursuing my B.A in performing arts. I started as a trainee editor in the early '90s, where I later learnt how to operate and handle the camera.
It is generally believed that the best director emerges from the editing bench. This is because the editor is opened to the minor, the technical and the complicated mistakes of the director. The editor sees the bad language, the bad light, the bad shot and every other mistake made by the director before the packaging is complete.
As an editor, you arrange, you trim, and every mistakes that are made, are brought to you to clear. In 1995, I escalated my work force into movie directing i.e. I directed my first movie in 1995. I think I have been able to answer your question.
How many movies have you produced, since you began this job?
I can't really be specific in answering your question. You know, as a Nigerian, you have to go by the convention. Then, we were just producing movie on and on and on, for the sake of production. Until we became exposed to the professional ethics of film production. Movie is not something you keep on rolling out every now and then it involves planning. When you organise well, at the pre-production level, the real production will not be a problem.
How many movies have you produced?
I have produced quite a number of movies. Though I have directed more movie compared to the number of movie I have produced. I can't remember vividly.
What is the name of the company?
Initially, it was called Ultimate Communication International, under which I produced movie like: Edungbalaja in 1999, Oju Kan epa in 2000, Obirin Oloja in 2001 and Erinlakatabu in 2002. In 2003, I produced the last movie from the stable of Ultimate Communication International. Alaleyi which campaigned against lesbianism. Long after this, I partnered with Florshow Studio which remains the name of the company till date.
How profitable is it to be a movie producer, movie editor and movie director in Nigeria?
No, it is not. When you compare the success of our contemporaries in the developed countries, you will understand what I mean. In Nigeria here, things tend to be difficult for our movie producers. As a movie producer, if you calculate all your input on a movie from the pre-production stage, to the complete production stage, and at the end of the process, you check through your net profit, you will discover that it is more like selling pure water on the Nigerian street.
Even the sachet water sellers get better profits than the movie producers. Sometime ago, the Census Board realised it was time to reap what we have sown. Thus, they planned a marketing frame work. Though, at the end of the day, it never worked because it was made free for all.
Now, you can't say you have produced a movie of one million naira and expect the same returns. So many producers lie about making much money from movie production, since they are able to drive a car that cost one million naira, after the production of three movies. People are now producing movies because they want to ride a car, get married or even send their children to school. I have to tell you there is no money in movie production or directing.
How can the movie industry be improved upon, so that the practitioners can enjoy their sweat?
The problem starts from the practitioners. Ninety-five percent of us are not professionals. If you look at our population, look at the number of practitioners that are skilled and the unskilled. You will realise that the number of the unskilled are more than 80 percent. How many of those people have the ethics of the practice? How many of them are trained? How many of them can boast of having knowledge of other aspects of production, apart from acting a role in a movie?
You must have a reason for producing a movie, put aside the monetary gain. What gladdens a producer or a writer's heart is realizing that you have given things of importance to your audience. In Nigeria here, if you pick twenty of our movie, you will realize that most of them are not worthwhile. When you watch foreign movie that feature artistes like Harrison Fred and Al pacino, you will notice some specific areas the movies are addressing.
They address national issues and tropical issues that bother on international securities. In Nigeria, out of the about twenty-five movies released weekly, twenty three twenty four will be addressing some frivolous issues, like "Iya-oko" or "Baba-oko." Thus, when the audience spends as much as two hundred naira to purchase such movie and find no value in it, they tend to prefer to spend fifty naira to rent the film from a club, just for relaxation. Thus, I have to say it starts and ends with the practitioners.
They need to be organised and trained. There are a few crash programs they can attend to equip themselves for three months, like the Nigerian Film Institute and other film schools available. They can also equip themselves by laying hands on some books, like books written by Mr. Afolabi Adesoya, the NFC Chairman, Dr. Ukwasi and other books by professionals. From all these, I think you now know why things are the way they are.
Some will say they don't have the opportunity; you need to create the opportunity for yourself. I had practices for more than five years, before I discovered that all I was doing was based on my knowledge, I was just going by the convention. When I went to school, I realised the reasons behind whatever I was doing. I now understand what film, music or dramatic music is all about.
For instance, when you request for a sound effect in your movie, if you do not study what film music or drama music is all about, you might realize that you have been given garbage. You don't know the reason why an actor should be characterised, you don't know the reason why an actor has to move from right to left and vise-versa.
When an actor comes on set, the director will just say, you are the husband. This is your wife. Let's see how you will do it, even without a script. Things should not be like this, because the script is the blue-print of the Director, and without it, the Director cannot speak to the actors on set.
It is good to have a full script during the production of any movie, since it includes the treatment, character analysis, dialogue, which is the level of dramatic action. Unfortunately, on our country today, the script most directors use, is just the situation of someone going to someone to get something. It is called "situation," is it contains no detailed analysis.
The reign of Jide Kosoko actually tried to organise things, at least we now have some professional movies. Though unfortunately, our people are still not willing. As long as practitioner are not organised, they will give the audience garbage. This is just like the computer, garbage in, garbage out. When you fill the market with garbage for the audience, then you get garbage in return in your pocket. We will not make real profit until we begin to address what we are supposed to address.
Story by www.nollywoodgists.com