Akwa Ibom Airport International Terminal To Gulp N18.05B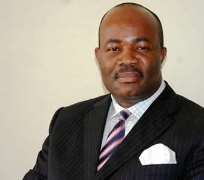 UYO, January 24, (THEWILL) - Akwa Ibom State government and Messrs ALCON Nigeria Limited Monday signed a contract of N18.05 billion for the construction of the international terminal of the Ibom International Airport.
Speaking during the contract signing ceremony at the Government House, Uyo, the state governor, Chief Godswill Akpabio said the ceremony was in line with his administration's quest to continue the uncommon transformation of Akwa Ibom state particularly from being a pedestrian state into a destination state.
He said at the advent of his administration in 2007 that he promised the people that it was his commitment to complete the first phase of the airport. Saying that not minding the controversy that surrounded the percentage of work done at the airport when he took over the mantle of leadership of the state, he met and ongoing project and he was determined not to abandon it.
Akpabio disclosed that since the commencement of the inaugural flight on September 23 2009 till date, the statistics available shows that the Ibom airport has been rated as the most industry compliant airport as well as the fastest growing airport in the country since 1960.
According to him, so far a total number of 403, 663 passengers using about 7749 flights in and out of the airports have been recorded in the last two years of operation in the airport.
Akpabio stated that this modest success including the recent international flights that airlifted pilgrims to Israel, Rome and Greece were made possible with the use of the interim terminal building and that considering the number of passengers and flights the terminals have been overstretched and also have become inadequate.
He maintained that to further consolidate on the status of the airport and to attain the necessary NCAA and ICAO and other international regulatory standards that he has approved the commencement of the construction of the state of the art international terminal.
While commending the contractor for winning the bid Akpabio urged the company to continue with the standard of work it did in the first phase of the airport and put everything on ground to deliver this project within 24 months as agreed.
He warned that his government will not welcome any variation in bid price except if new facilities are to be added.
In his remarks, the Managing Director and Chief Executive of ALCON Nig. Ltd, Mr. Gianfranco Falcioni assured the governor of his company's readiness to complete the project on schedule even if it means working day and night thanking the state government for the confidence repose on his company for a second time.