Koffi in Workerman Movement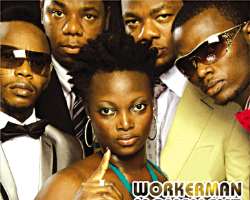 Comedian Idowu Nuel, otherwise known as Koffi in the entertainment circle is taking his career to a higher level. Aside from being a comedian, the humour merchant has instituted an entertainment outfit — Workerman Movement.
Already, Koffi's effort has started yielding fruit with the production of an album, All Eyes Open-12 Sessions, 5 Mics. A musical assemblage of five different artistes namely: Koffi, Yeankeyz, Outshine, Affroholik and Boomerang, is said to have been borne out of the need to foster serene and good music, which would be devoid of lewd lyrics and obscene contents.
Known as Workerholics, Koffi, who leads the group, is of the opinion that lovers of urban hippy music can easily identify with the production, while not disregarding the need for socially responsible thoughts. The 12-track album featured songs such as Jammin, S.E.X.Y, No Be Ashy, Adrenaline, Money, No Shigbin Shigbin, Take Over, Swagga Dis Swaga Dat, Going Nowhere, Workerholik and others.
"I'm into so many things, but right now, we would be releasing the album this December. We just wanted to show people that we can still do serious music," he said.
On why he delved into music, Koffi explained that, "What we are doing is a full time job and should be treated as such. The same doctor that treats malaria treats cancer and also assists in giving birth to a baby. Those are different areas a doctor performs his duties. In the same vein, as a comedian, why can't I do every other thing that I can do; as long as I don't try to take another person's piece of cake. I just try to express myself the best way I could."
Story by http://nollywoodgists.com