NFF ALLEGES FRESH PLOT TO DERAIL FOOTBALL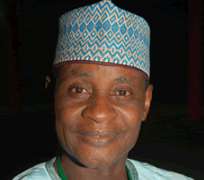 Maigari
Even as it is yet to officially react to the weekend's court judgment against it allegedly initiated by a former NFA board member, Dr Sam Sam Jaja, the leadership of the Nigeria Football Federation (NFF), has alleged a grand design to derail football programmes in the country through unnecessary recourse to the courts.
Sources close to NFF's President, Aminu Maigari and the Chairman of the Technical Committee, Chris Green, said it was shocking that while it was making all efforts to redirect Nigerian football to winning ways, some members of the football fraternity are still bent on taking cases to courts, which is against international conventions.
The source said it was strange that after a carefully thought out plan for the year 2012, which has seen the Super Eagles in camp through out the yuletide period and the Under-17 National team winning its first game away to Kenya by 2-0 in Nairobi, some agents are still planning to rub pepper on the pains of Nigerian football.
The top officials said they still had implicit confidence in the Nigerian judicial system but advised football stakeholders not to use the judicial system to bring international shame and odium to the game of football in the country. 'We're part of the international community and the rules of the game at CAF and FIFA levels are binding on us because Nigeria is also signatory to the United Nations conventions on sports and we must be careful how not to draw the country's name in the mud.'
The country's football governing body said it was exploring all avenues to ensure that the court case is not used to put Nigerian football in quandary in 2012. The sources said all avenues including talking to Sam Jaja, and appealing in court will be exploited for the sake of the game, because 2012 is a very important year for football in the country and the football ruling house cannot afford to mess up the year through litigations.
The NFF has already said it would react officially to the court judgment later this week, but called on Nigerian football fans to remain calm as it awaits its reactions.