There Isn't A Single Star In Nollywood – Solade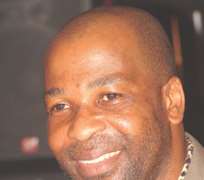 Without doubt one of the outspoken, talented and cross-over actors in Nigerian film industry, passionately called Nollywood, is Yemi Solade. Having earned his name and reputation in the profession, he can be called an icon in the Nigerian film industry. Always a reporter's delight, Yemi holds nothing back in this exclusive interview with AJIBADE ALABI. He spoke about his colleagues whom he said always believe they are superstars. He also touched on the controversial issue of the election of his association (Association of Nigeria Theatre Arts Practitioners-ANTP), Yemi did not also spare producers as well those he described as an opportunist who exploit the desperate artistes among them.
At what point did you see yourself becoming a celebrity?
If I claim to know that, then I will be telling you a cheap lie. I still don't like the way people ascribe their popularity to the advent of home videos of some 20 years ago. I am just a dramatist who has been hardworking, and has been able to register himself on the scene and in the history of the industry, and not a celebrity or a star as they say. I never had a dream of being in the lime-light, I just went to learn a trade I loved, just like every other people do on the kind of profession they choose, and destiny played its part along the line. Though I appreciate the fact that people see me as a star but I know that I am not one, because I know the definition of a celebrity.
Who is a celebrity in your view?
A star is not someone you see and meet anyhow. For instance, as we are here right now, if I am a star, people would not just see me like that. They will just be hearing that Yemi Solade is somewhere and all my fans would stay at the exit, waiting for my autographs with their pens and they would be there even if am staying 10 hours.
Immediately they see me, they scream and there will be serious competition among photographers. I will only smile and wave at them and just append my autographs on a few of them. My guards will clear the way, and off I go. That is a star. A celebrity will not be riding in a Tokunbo car, which he has not even fully paid for. He would rather go for a new, factory-fitted, customised car, with him being the only one possessing the type.
But for me, people see me and harass me. Some will say "A de n kiyin, e ole dahun, eden le oju. Awa la nra film yin. Ya owo fun wa" (we are greeting you, you are frowning and you refused to respond, meanwhile we are the ones who buy your movies, so give us money). I am always quick to tell them that they are wrong because I have not produced any film yet. I would act the lead role and when the movie is produced the marketers of Idumota in Lagos, would be the ones to call and inform me that it is in the market, so I should go and buy it. Whereas, the likes of Mainframe and Tade Ogidan will give you copies. Most producers just expect you to work hard for them, without paying you and they will not even appreciate you.
I don't claim to be what I am not. As you can see that there was fuel crisis in the country, and just few days ago I was on the queue at the filling station to buy fuel. Why should a producer pay me N40,000 for a job and get out there telling the press that I was paid N1 million? Why can't we just call a spade a spade? And, as a matter of fact, we do not have a single star in Nollywood, we just have popular faces. I just may be one of them. Quote me: Several of them are only seen, not heard, which is the worst thing to happen to someone who calls himself or herself a celebrity
Why spend just a few days to shoot a movie that ought to take months as in the case in Hollywood and Bollywood?
You see, several of those that call themselves producers are not even artistes in the first instance. They just have the opportunity through the leverage of the emergence of home videos. They are just errand boys and girls to the Idumota boys. They are never the owners of the jobs, but only toil and labour for them. That is why the family of the likes of Alasari can not boldly go to Idumota to ask for anything because they are wasting away. A marketer will give them peanuts to make several movies for him with a promise to buy them a car, and they will jump at the offer by giving away all their creativity, energies, putting serious stress on themselves by shooting a movie that should have taken about two months or more within four days, all in exchange for a car, a used one at that. That is why many of them look older than their real ages.
As member of ANTP what position do you hold?
I am a Jew. And like the unaccepted Messiah, I know that I am not appreciated and not even wanted in the association. One thing they do not understand is that, we all have our destinies in our hands. I was voted in as the spokesperson for the association during which someone is now parading himself as the President while some members do not accept him as one, but I remain on my own, seeing the state of things, as the elected officers were not given the room to operate.