R-E-V-E-A-L-E-D: One Of Nigeria's Most Beautiful And Sixiest Female Soldiers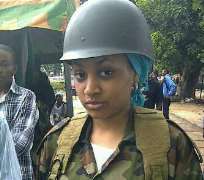 The picture you are seeing above is that of a female Military personnel of the Nigerian Army.
She is one of the many Nigerian Army officers deployed to calm high tensions in Nigeria. If you think their are no beautiful and Sexy ladies in the combative profession in the Nigeria Nigerian Army, then you have to change your thought about that.
Mind you, guys, please take your eyes off the damsel. Remember, she is a Soldier. Less you confirm that the Police are your friend if you mess up with what you are over-admiring now. I have said mine.
© 2012 Nollywoodgists.com. All rights reserved. This material may not be published, broadcast, rewritten or redistributed without the express written consent of the publisher.