BREAKING NEWS: Fuji star WASIU AYINDE (KWAM 1) Returns Today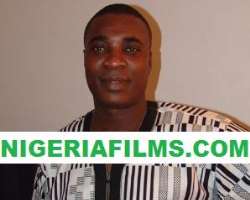 all await the return of the 'king'
Fuji star Wasiu Ayinde Anifowoshe, popularly known as K 1 The Ultimate, will return home today, after about three months in Canada.
The 52 year-old Fuji veteran will arrive Lagos today, at 5PM Nigerian time, aboard a KLM flight, his manager Percy Ademokun told www.nollywoodgists.com.
K 1 has been away for almost three months, recuperating after undergoing a major operation to correct complications arising from a collapsed lung. The operation was carried out in Trillium Medical centre, Mississauga, Ontario.
According to emedicinehealth.com, "a collapsed lung refers to a condition in which the space between the wall of the chest cavity and the lung itself fills with air, causing all or a portion of the lung to collapse. Air usually enters this space, called the pleural space, through an injury to the chest wall or a hole in the lung. This result is called a pneumothorax".
Death may result if affected persons do not receive prompt medical attention.
The band-leader left Nigeria early September, after a series of diagnoses, and after his doctors advised him to undergo an operation. Before he left the country, there were rumours he was suffering from Cancer of the lungs.
It turned out his situation wasn't as grave as was being touted.
Wasiu is one of Nigeria's most enduring band-leaders; and a regular on the thriving party scene. Since his 1984 hit 'Talazo', the Fuji performer has not slowed down; recording hit after hit, expanding his fan base; taking Fuji to hitherto unimaginable audiences, and experimenting with almost every genre possible. He remains the most iconic Fuji act of the past two decades, and one of the most remarkable recording and performing acts to emerge from Nigeria in a very longtime.
Responsible for inspiring most of today's Fuji acts, KWAM 1 is the undisputed 'king' of the genre – even though godfathers Sikiru Ayinde Barrsiter and Kollington Ayinla are still alive and kicking.
Before going solo in the early eighties, Wasiu was an apprentice with Sikiru Ayinde's band.
Sikiru Ayinde is globally regarded as the originator of Fuji music; even though some pundits claim he did not create the genre.
Ayinde and Ayinla will not be at a scheduled concert celebrating KWAM 1's return this Friday. But dozens of his 'subjects' will. Pasuma, Malaika, Shefiu Alao, Atorise, Safejo, Kolade, and many more have signed up, to perform at the Welcome concert holding this Friday (December 18) at Motherlan' in Lagos.
KWAM 1's arch-enemy Abass Akande Obesere, with whom he was reconciled recently, is conspicuously missing from the list.
Story by www.nollywoodgists.com/Victoria Ige