FAME, MONEY RUIN CELEBRITY MARRIAGES – FASHANU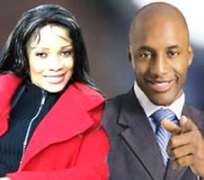 Abigail and John Fashanu
The private lives of celebrities are awash with much fame and happenings that leave many tongues waging after their elaborate weddings. It's such that many would wish they were the ones to hug the headlines.
Despite the frenzy that goes with celebrities, either from movies, music or sports, one reoccurrence is the wanton crash of their marriages. Take your mind back to the celebrated wedding of Prince Charles and the late Lady Diana, Mike Tyson and Robin Givens, Tiger Woods and Elin Nordegren to mention a few.
In our own clime, Nigerian stars have also had a fair share of failed marriages. Among the Super Eagles for instance, both present and past, the list runs into tens, with many of them yet to remarry. The reason for such failed marriages are not far-fetched, as former England international and Nigerian Football Ambassador, John Fashanu has revealed in this interview with Sunday Sunsports.
For a man who has seen it all, Fashanu gave an insight into the possible causes of failures in the marriages of famed stars, given his own experience. Fash, as he is fondly called by his admirers, who was once married to the daughter of the former Gabonese president, admitted that it took him 15 years to find true love after his first marriage crashed, and that he is doing everything possible now to keep what he has. 'The problems associated with broken marriages are not far-fetched, money is one of the major factors that kill marriages. Another is the inability to manage success and at times, it could be the issue of children,' Fashanu began.
'Most couples who are well placed, have the opportunity of touring the globe and in the process, they meet different kinds of people and could be tempted to go into other relationships with the people they met on the way.
'For me, marriage is all about understanding and patience. Thank God for my present wife in whom I've found true love and anything one looks for in marriage. Aside outward beauty, she is the most charming woman I've ever come across. I regret not meeting her earlier, probably I would not have been among the people, who had failed marriages,' he reasoned.
Fashanu, who remarried recently said: 'My wife is my angel. I have found in her true love. Maybe I did not see that in my first marriage because of my inability to understand the realities of life due to my popularity.' He counselled: 'If any celebrity wants his or her marriage to work, he or she needs to be patient with his or her spouse. Be tolerant and learn how to control your money and manage success.
'I would advise any celebrity, who wants to marry not to look at facial beauty, which could be deceptive. Instead, they should focus on internal beauty, which is eternal.'Above all, a God-fearing woman or man is the ultimate jewel for marriage. And I must advice intending couples to ensure that when they marry, they should try as much as possible to keep their marriages.'