I'M NOT ASHAMED TO SING ABOUT SEX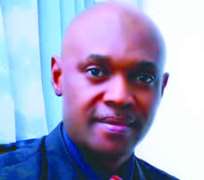 Ahamzie
Some gospel artistes came, saw and conquered while others were not as lucky. But for John Akachi Ahamzie, his new album seeks to reach all shades of people, old and young. And indeed beyond the lyrics, the singer-cum-preacher brings to the fore his unquenchable love for God while preaching the gospel through his music ministry. Here, he talks about his music and gives reasons he's not afraid to talk sex in his songs. Excerpts:
Going into gospel music
No one goes into music unless they are born with it. Music runs in my family. My mum in her sixties is still a powerful soloist. My dad played church organ and my siblings have wonderful voices. My dad was an avid collector of old secular and gospel jazz. I grew up listening to the like of Louis Armstrong and Frank Sinatra. I wrote my first song while in primary school. Prior to my encounter with Jesus Christ, I had already written many songs. However, as soon as I gave my life to Christ, I started hearing inspirational melodies virtually from the air or so it seemed. The Holy Spirit is a wonderful singer and composer. That's why my music is called Fresh Dew. The lyrics and melody flow into my spirit from above via the holy channels of the Spirit of God.
Combining singing and preaching
It comes very naturally to me. There is no struggle at all. Early in my work with God, I was the singer who loved to preach. Now I am more like the preacher who loves to sing. It is very difficult for me to preach without singing. I have a healing anointing or grace that seems to flow more when I am singing and yet people are greatly blessed and inspired by my teaching and preaching. I think preaching and singing share in the prophetic and inspirational essence of the gospel of Christ, which means that sometimes their lines of difference blurs and merges into one divine source of blessing.
On suggestive title
It really was not intentional but when it apparently became an obvious issue, I allowed it for creative and strategic reasons. The title, 'I am In the Mood…Because I Love You' is a creative combination of two different tracks. The former celebrates the fact that I am in the mood to praise God while the later is a special love song for my saviour, Jesus. What the title is saying in essence is – I am in the mood to praise God because of the love I have for Jesus Christ. As for being suggestive of sexism, I am really not afraid of such controversy. People who are conversant with my radio/ TV programme, 'What's All These Noise About Sex' which has aired non-stop for almost 10 years on Star 101.5 FM every Sunday morning, know too well that by the grace of God, I have made a life long commitment to teach the world the dynamics of sexual purity, marital bliss, biblical romance and life in the spirit so, I am not scared by the 'S' word. In a way, there is a strategic dimension to the title especially if you consider the fact that some people who perhaps would have ignored the CD in spite of the blessing it carries, may now have a rethink – because of the universal curiosity provoked by sex; and now drawn by their misconception that the album is about sex, into the love of God.
Target audience
This is my third album. I have not scored high points when it comes to promoting fresh dew music. I shot the video of the title track of my second album, Powered by the Blood in London some years back but that effort was hijacked by wrong promotional hands. My schedule may not accommodate the normal jack-of-all-trade syndrome associated with the Nigerian musical scene, so I am earnestly praying for a spirit-filled promoter who shares in the vision of a kingdom-cultured gospel music revolution in Nigeria and in Diaspora. As for my target audience, you are one of them. What do you think about the songs? Fresh Dew Music captures the spiritual essence of praise, prayer, purity and prophecy without compromising creativity and artistry. I believe we have something for everyone. Every spiritually aware person with distinct instinctive discernment for music will love Fresh Dew music, especially those who won't mind my obsession for infusing elements of jazz in my songs. There is a bit of jazz in everything I sing.
Favourite song
It's really hard to say for now. Each of the ten tracks appears to be standing their grounds, refusing to bulge. I think 'Am In the Mood' might take the day because it features an upbeat pulsating groove with a sweet blend of reggae, jazz and rap .The summary of the feed back I am getting from people is that the album as a whole is an unfolding experience with a secret surprise hidden in each track. That really makes me happy.
Recouping money invested
Everything boils down to faith. I believe the same God who miraculously gave me our high tech, luxury multimedia Fresh Dew studio through the generosity of a ministry partner and also a highly talented American trained producer cum engineer, will also in His mercy do everything to make Fresh Dew music a highly successful venture. For now, I am not bothered about the monetary aspect though it is very important. I just want as many people as possible to catch the spirit behind Fresh Dew Music and get into the mood for a God cultured life.
Competitive music industry
The essence of positive competition is to weed off mediocrity. The sky is so huge and open; you don't hear any thing about birds bumping into each other. There is really no question of coping with competition because fresh dew music is so unique you may not easily find any other gospel genre like it. Once we are able to consolidate on our uniqueness, by the grace of God, it will create a positive contact point for extensive loyal fan base.
On piracy
We have a horde of musical talent in Nigeria. We have what looks more like a music market than a music industry yet our potential to be a world leader in this area is a well-known fact. We simply need to develop the industry with great intention. The government must step up with other stakeholders to create an atmosphere of policy-driven, highly organized platform for economic prosperity for all and sundry. In a world that has gone crazy with hand-held smart electronic appliances with mind-boggling media possibilities; the total eradication of piracy has become a pipe dream. To reduce piracy considerably is not rocket science or space exploration. It all boils down to structure, order, organization and policy. It just appears our government is not interested, having been seduced to a drunken stupor by the enchanting fumes of cheap crude oil.