Ade Love's name opens doors for me – Gabriel Afolayan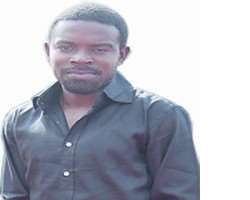 Call him a chip off the old block and you won't be far from the truth. Gabriel Afolayan comes from a well known family of actors, his father being the Late Adeyemi Afolayan, popularly known as Ade Love of
the Taxi Driver fame. His brothers, Kunle and Aremu are plying their trade in the make-believe world. In this interview with BUKOLA BAKARE, the actor goes down memory lane on how he got his first movie role through Moses Olaiya Adejumo (Baba Sala), his childhood days, challenges and how his late father's goodwill has rubbed off on him as an actor. Excerpts:
Can you tell us a little about your background?
My background? Apart from the fact that my name is Gabriel Afolayan. I am an actor, producer, writer and yet to be a director. Basically, I am a simple and straight forward person. I don't do things that people will not be able to relate with. I do things that people will feel the impact in a positive way, something that is beyond the normal. We just have to push our luck in life.
I graduated from the University of Ibadan where I studied Theatre Arts. I must say that I have lived all my life in Ibadan.
Can you relive your childhood days?
(Pauses) My childhood days... Ah! It was not easy. I grew up in the midst of challenges and things were pretty tough while I was growing up but I thank God that I am here today safe and sound. I give God all the Glory. Sometimes, I look at myself in the mirror and I am like whoa!. If I am to go down memory lane, I went through a lot as a child.
Share some of them with us?
No, I don't have to.
Can you recall your very first movie role?
My first movie role was as far back as 1990. Don't be surprised, that was a long time ago. On my street, Baba Sala's house is pretty close, so I would go there all the time and mix up with the people. One way or the other, I got to play a cameo role in one of his films. It was a commissioned short film.
Do you remember the title?
No, I can't as it was a long time ago.
So, from 1990, when did you have your first major movie break?
That would be the movie, Madam Dearest in 2004. Prior to that time, I featured in a soap opera titled Behind the siege. It was also directed by Tade Ogidan but it didn't get much attention because people felt indifferent about the soap but later on, Madam Dearest came along and there has been no turning back since then. I have been doing much of acting but most of the time, I find myself in the soap opera kind of thing like Super Story. I do tell people that I act in Yoruba movies too. In those days, I was still in school so it was during my holidays that I had the time to act.
You come from a well known acting family. Your late father was a movie great and your brothers, Kunle and Aremu are also doing well in the field. What would you say about this?
Well.... I hail from the family of late Adeyemi Afolayan popularly known as Ade Love in his life time. He was one of the movie pioneers in Nigeria. I must say that he has been a great influence in my career.
How much has your late father's name rubbed off on you as an actor?
(Cuts in) You took the words from my mouth. That is not a bad thing and the goodwill has paved a lot of way for me in the industry, but sometimes, people don't get to know who I am until after production. One thing about me is that I don't want people to judge me using my late father as a leverage. I tell producers that if you think I am good enough to play a role, then let me play it but if you think I am not worthy of the role then, I'll go. You don't have to say that because my father was this and that, you will consider me. However, I can't seem to run away from it. It is always good to be identified with such background but the truth about the whole thing is that I don't carry it on my head. I depend solely on what I can do as an actor.
What are the challenges you have faced?
I've had my challenges and till today, I am still facing them. You know, one thing about this industry is that once you are an actor, you have to be able to keep in form and shape. Apart from your skill, you have to look good on the screen. Sometimes, I am called on stage to play the role of a fifteen year old. That comes with having a small size, so I can play such roles. For me, that is a challenge, so, I am working on improving that. Like I tell people, small people can play the role of an older person while big framed people, sometimes, can't play a younger person's role. So, if you think of that, you begin to see the challenge involved in it.
What else do you do apart from acting?
I am into full time acting. Basically, I am into showbiz, entertainment. I get involved in reality shows. Music is also part of it.
So, we should be expecting an album very soon?
If you say an album, time will tell regarding that. Let us see how things keep moving. I won't make promises that I won't fulfill at the end of the day but I'll just tell people to relax because better and beautiful things are coming soon.
Where do you see yourself in the near future?
In the near future, I see myself settling down with my wife and having kids (chuckles) and at the same time, take my game to all kinds of level.
Can you recall any embarrassing moment?
As regards the job, embarrassment is normal. You have to learn to deal with your fans and fame. It is interesting and I don't see them as embarrassing moments. I see them as moments of challenge where you are being tested. How good or how tactical you get to solve it makes you who you are because I see them as riddles and if you solve them, you get to move on in life.
Story by www.nollywoodgists.com