SERAP ASKS JONATHAN TO REMOVE WASTE IN 2012 BUDGET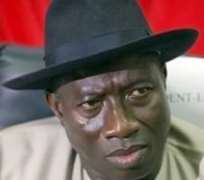 Socio-Economic Rights and Accountability Project (SERAP) has urged President Goodluck Jonathan to 'move swiftly to cut down the unnecessary spending and waste in the 2012 budget and to use the money to fund fuel subsidy, this would end the subsidy logjam and the suffering of millions of Nigerians.'
In a public statement dated 11 January 2012, and signed by SERAP executive director, Adetokunbo Mumuni, the organization said that, 'A key argument by the government on why it must remove fuel subsidy has been that it needs money to improve the infrastructural development of the country. Well, if this government is genuinely serious about improving the quality of lives of ordinary Nigerians, it should go back to the basics and cut down the questionable priorities and waste so visible in the 2012 budget.'
'Spending billions of dollars on travel, refreshments, generators and furniture while ordinary Nigerian women, men and children go without basic social services is incompatible with the purpose of government. This cannot be justified on any ground, especially at a time when over 70 percent of the citizens live in extreme poverty, without reliable access to drinking water, electricity, and quality schools' the organization also said.
According to the organization, 'President Jonathan should show strong political will and act in the best interest of the country by cutting down the following allocations contained in the 2012 budget: N13 billion for local and international travel; N4.5 billion for stationery, magazines, newspapers; N17 billion for maintenance of vehicles, furniture; N5 billion for training; N4 billion for generators; N9 billion for refreshments and meals; N2.5 billion for computer software; and N27 billion for research and development.'
'President Jonathan should also cut down the waste identified in the allocations for the Aso Rock Villa budget by reducing N285 million for welfare; N265 million for computers; N150 million for scanners; N161 million for buses; N295 million for new furniture; and N1.8 billion for the maintenance of existing furniture, office and residential quarters,' the organization also counseled.