LONDON 2012: ONLY BEST 'LL GO TO OLYMPICS -EKEJI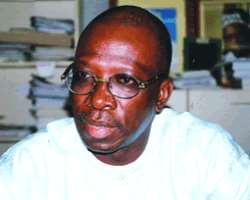 Nigeria appears set to go to the Olympics with her smallest contingent ever, when the London 2012 Olympics get underway this summer, if the words of the Director General of National Sports Commission (NSC), Chief Pat Ekeji, are anything to go by.
Ekeji in a chat with Daily Sunsports said the Olympics wouldn't be a jamboree, declaring that only athletes who stand a chance of winning medals at the Games would make the nation's contingent.
He pointed out that the NSC would focus all its attention on the London 2012 Olympics since it is the biggest event on the 2012 sporting calendar.
'This is an Olympic year and we are going to pay full attention to it.
The Olympics is the biggest and most glamorous sporting event and our hope is to do well at the Games as we did in India during the Commonwealth Games in 2010 and the Maputo 2011 All Africa Games,' Ekeji said. The NSC DG, while giving an insight into the events Nigeria would be featuring in, said the country would only compete in areas where she stands a chance of picking a medal, insisting that the Olympics is not a competition for rookies.
'We have resolved that we will only compete in events where we have the chance of picking medals. For us, the Olympics is not going to be a jamboree. It won't make sense taking an athlete who is ranked say 250 in the world to the Olympics. What that means is that it will take a miracle for such an athlete to go beyond the first round in his or her event. We don't have the resources to take every Tom, Dick and Harry to London.
We have looked at our areas of strength, areas where we know we have a chance and those are the areas we are going to concentrate on. This was the strategy we adopted during the India 2010 Commonwealth Games and it worked. We did the same thing during the All Africa Games and recorded a good performance in Maputo. For the Olympics, we hope to do well despite the challenges we are facing in the area of funding our preparation.'
Ekeji disclosed that Nigeria would specifically be fielding athletes for events such as athletics, taekwondo, wrestling, weightlifting and power lifting. 'If you look at the performance of our athletes in Taekwondo, you will see that they are not far from the top at the world level. Chika Chukwumerije is one athlete that we are very impressed with his showing and build up ahead of the Olympics. We will be banking on him and his teammates for one or two medals. Nigerian taekwondo team did well at the African qualifiers in Cairo. Now that the qualifiers are over, we will continue to prepare the taekwondo team for the Games proper. Our weightlifters are equally doing well and their camping has been going well. They did well at the African and world championships in South Africa and France respectively late last year. In track and field, with some dint of hard work, our athletes could win medals. We have sprinters who could pass as medal hopefuls.
On the whole, we have identified a few sports where we have a chance and we are going to concentrate on them. As I said, we are not going to make it a jamboree. Even if we qualify to represent Africa in an event, where we feel we don't have a chance, we may decide not to enter for such event.' On football, Ekeji said he had expected the nation's Dream Team V to make it to the Olympics, even as he expressed surprise over the failure of the Austin Eguavoen-tutored side to pick one of Africa's qualification tickets in Morocco during the African pre-Olympics 8-nation tournament.
'I thought we had a good team in Eguavoen's Dream Team V. I was taken aback by its failure to qualify for the Olympics.'
Ekeji noted that the biggest challenge facing sports development in the country was the paucity of funds. He pointed out that unlike in other climes, where corporate bodies invest heavily in sports, government does most of the funding in Nigeria. 'Here in Nigeria, what we put into sports in terms of funding is nothing to write home about because government is the one that is doing all the funding with corporate bodies putting little or nothing. What corporate bodies do is to lash on whatever success story we record to get some mileage. They don't do much when it comes to sports development.
'Putting in place world-class facilities and maintaining them involve much money and government can't do that alone. For us to really compete at the level of the Olympics, we need to get more funding. Our athletes need to be better motivated. We have great talents in the country, but no matter how talented an athlete may be, he needs to train well and get well motivated to do well at the world stage.'
Ekeji posited that the poor performance of football, which is the country's No.1 sport, is equally taking its toll on other sports. He said that football ordinarily should drive the development of other sports. 'The unfortunate thing is that football, which is supposed to drive the development of other sports is not doing well at the moment and this informs why we need to reform the way football is run in the country. If we get it right in football, it will positively rub off on the other sports,' Ekeji said.