FUEL SUBSIDY REMOVAL IS A PLOY TO IMPOVERISH THE PEOPLE -ACN CHIEFTAIN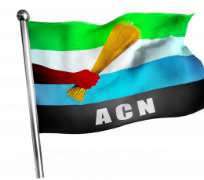 Ehiozuwa Agboniyiman is a member of the Action Congress of Nigeria (ACN), Edo State chapter. In this interview with NDUBUISI ORJI, he speaks on the removal of fuel subsidy and the July 14 governorship election in the state.
Excerpts
Edo 2012
Well, you know in every election you see people agitating to be governor, senator or to be House of Representatives members, and chairmen of Local Governments. But on this very one, I think the governorship election is going to be the only election that everyone is waiting patiently to see. So, we are all hoping that people will come out to vote for, the right person.
The person of their choice but for me this time is for people to really come out and be focused. Everyone should be a part of the electoral system, everybody should commit themselves to make sure they vote their mind and their conscience because if you don't vote, you should not complain.
It is your right to vote and to exercise that your right you must cast that vote that is your choice so that is my advice and I believe that at the end of the day the winner will emerge. The winner will only emerge through the front door and not the back door, the people's choice and that is how it is going to happen.
PDP is working to take over the state; just like we in ACN are working to retain the state. There is also Labour Party. Everybody is working, that is politics. It is good. It helps to put everybody on his toes, but only the best will emerge at the end of the day. So the more the merrier. If you have no opposition you, 'will never be firm in your dealings. You need someone to tell you when you are going wrong, so if PDP is agitating and working, and say they want to reclaim the state, they have the right to say that, but we also at ACN, as one of the leaders of ACN also have the right to say well, we have done well in this area, we can do better.
It is better to put all the cards on the table on our achievement; if somebody is coming to say well, he can do better than what we have done, then that person has to be able to convince the people. Politics is all about convincing, being able to convince people not forcefully, politely, through the democratic doctrine being able to persuade others to join you, not by fighting them to join you. You have to persuade and convince and speak to them. Tell them what you want to do, the development structure that you have, that you feel you can bring to the people of the state. These are the things. Yes if somebody has done well and I say yes I can do better, the issue is up to the people to believe, can this man really do better, can this man really deliver? That is the bone of contention. Look at General Samuel Ogbemudia in this state. He did so well that today his legacy speaks for him.
Like I told somebody sometime ago, I said 'If it is not broken, don't change it, if it is working don't replace it' so I mean it. If something is working, why change the circumstances around it. If it is not working, yes you have the right to change it, but if it is working, you have somebody that you have appointed to do the job.
Defection in political parties
You see what has been going on, people moving from one party to another, those who help destroy their own party come to the new one, they move from the new one to the old one. I have seen it happen over and over again. Is that the real issue? No! The real issue is for those who really want things to work right. And he is doing it perfectly. So there is no need to hire a new person to do that job. Today you leave PDP to ACN, from ACN to ANPP to CPC, do they really mean well or they are looking for soft landing or a way to perpetuate themselves in power? Everybody is hungry. There is hunger in town.
Disaffection in ACN
No, I don't see any wrangling. What I am telling you is this that nothing is wrong with ACN. I don't see anything wrong with ACN. ACN parse is a name. But there are some people who don't mean well, whatever they do, don't forget it does affect the name ACN. I have told you if you don't know where you are coming from you will not know where you are going.
I am a member of ACN. I am a proud member and I will not relinquish my membership.
However,a house divided can never stand. So, for me I want to make sure it is intact, that it is not broken; but if those who are decamping from other parties to join, after they had failed elsewhere,they want to come and reap where they did not sow, politics is not played that way.
You don't abandon those who helped you to build your house. You always have to do what is right to bring everybody together regardless of what, that is why there is good the bad and the ugly, have positions in politics. There is no perfection in humanity. There is no one that is perfect, that will say, I know it all.
Removal of fuel subsidy
You see, in Nigeria we cannot really say what is coming in, our production, what is coming into this country, how many barrel of oil do we produce? So that we will be able to at least define how much we make. We don't know what is coming in, not that they (the authorities) don't know but we as Nigerians we don't know exactly what is going on. It is unfortunate that a country that is producing oil, to the world and look at what we are going through. Like I was telling one of the senators in US during my last visit to US, the only country that can help this country Nigeria to develop that every boy or girl, man or woman will be proud of, is America, let us invite America and say 'Come and help us develop Nigeria'. Until we stop that nonsense of going to China, because we can give bribe to China and other countries. UK colonized us, but guess what?
They are part of the problems we have. America is the only one that can deliver us from this bondage because they did it in Dubai. Dubai, ten years ago, Dubai was a dessert but today, Nigerians are going to Dubai, sending our children to school there, while the story here is fuel subsidy. What we are talking about, is that going to help common man on the street, enable them to buy fuel and put in their cars or motorcycle? Is that going to increase what is coming out from their pocket to be able to put fuel in their cars or its going to put them into further poverty where at the end of the day they will have nothing to write home about? So look at it, is it going to help the common man and woman? So that is the bone of contention.
Nigerians should decide. That is why we vote for the senators, we vote for them to go and defend us. The senators should go to their various constituencies and hear what their constituents want. But as for me, my question is will the removal of oil subsidy be the best, for this country? Is it going to improve the lives of Nigerians. Those pushing for the removal of the subsidy, have they been able to explain, how it will be better for us? Or is it a ploy for certain group of people who want to impoverish the people more.
Already, there is no stable power supply in the country. In spite of all the money spent in the power sector, electricity is still not working. I think there are certain people who do not want this country to progress ,because they are part of the system who brought in generators to this country. If there is stable power supply, then there will be no money for them. They will be out of business. It is only in Nigeria that you hear generator noises everywhere, and we are asking for investors to come to Nigeria and invest, a country where we cannot boast of constant power supply.