Romney Wins New Hampshire Primary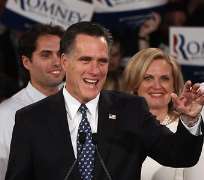 Mitt Romney won the New Hampshire primary, after voters turned out in expected record numbers Tuesday in the second contest of the Republican presidential race.
Based on early results and exit poll data, CNN projected that Texas Rep. Ron Paul will finish in second place and former Utah Gov. Jon Huntsman will finish third. Former House Speaker Newt Gingrich and former Pennsylvania Sen. Rick Santorum battled for fourth place, with Texas Gov. Rick Perry at the back of the pack.
Exit polls indicated Romney would get about 36% of the vote, with Paul receiving 23% and Huntsman 18%. Gingrich and Santorum came in with 10% and Perry with 1%, according to the exit polls.
With Romney's victory expected, based on polling in recent weeks, the battle for second place and beyond became the focal point of the first-in-the-nation primary with implications for the next contest in South Carolina on January 21.
Despite the strong showing by Romney, who won nearly every group of voters after his narrow victory last week in the Iowa caucuses, all the other contenders made clear they would continue their campaigns in South Carolina.
A triumphant Romney told exuberant supporters they made history with a second straight victory.
"Tonight we celebrate. Tomorrow we go back to work," Romney said, immediately assuming the posture of the Republican nominee who will face President Barack Obama in the November election.
Calling Obama "a failed president," Romney said he was asking "the good people of South Carolina to join the good citizens of New Hampshire to make 2012 the year he (Obama) runs out of time."
CNN.