Slim women with heavy ikebe trip me – Boy Alinco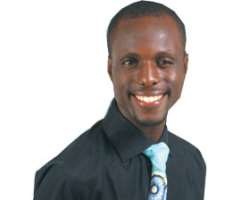 Victor Iferotimi Oyebode is the third person to play the role of Alinco on the popular TV series, Papa Ajasco and Company.
The Ibadan-born actor cum comedian was our guest during the week. In this interview with our reporters, Victor shares some of the challenges as well as the opportunities that playing the role, Alinco, has so far brought to him.
Excerpts:
Before you began to play Boy Alinco, how did you feel when you watched the ex actor playing the role?
I liked the role because the guy is my kind of person: flexible, creative.
So, how did you become Alinco?
I studied acting in 2005 because I had nursed the dream of becoming a successful actor. On graduation, I took part in a WAP audition, alongside more than 700 persons to select characters for an unnamed production. I never knew the auditioning was for Papa Ajasco and Company. Fortunately, six men were picked out of all the crowd.
Before you were chosen, what roles were you meant to play?
The Alinco stuff, which involved his way with the women and the rigmarole. I was even asked to ask a girl out. The audition was basically a search for a replacement for Alinco and I had no idea.
You didn't know they wanted you to pick up the role?
No, not until when I was asked to do the rigmarole.
What is rigmarole?
The cat walk, the movement, you know?
And you did it very well?
Yeah! But I never attached anything to it.
And when you were short-listed, what happened?
I was shocked and never believed I was going to be the next Alinco until I met with Mr. Adenga in his office. I couldn't believe it until I saw the camera rolling on me.
And the Alinco paraphernalia were put on you.
It felt wonderful and it was for me a dream come true. However, my new role has not changed anything in me. If it is Alinco, it is the bald headed guy and if it is Victor, yeah that's me.
And the girls?
You can't do without them, you know?
How many girlfriends do you have?
I have girlfriends but just one lover.
You met her before becoming Alinco or after?
Long before I enrolled at PEFFTI.
And she was there?
Yes, but we were not lovers at the very beginning. Initially, when I told her of my intention, she declined. But when I persisted, she gave in finally. I made her realise that my love for her is real. She understands me as Alinco and as Victor. What ha Alinco as actor added to Victor?
Connections.
It opens doors for you?
It does. A lot of people want to associate with me. But as Victor, I doubt if that would have been possible.You are interviewing me today because I'm Alinco. In churches, I shake hands with General Overseers and sit with them.
Alinco is an irresponsible, unserious, naughty, die-hard, womanizer. How can you be a role model?
Being on set is different from being outside set. You can choose to have a continuity of what you are on-set. You can drop such role on-set and be yourself. It is your choice.
Some people smoke on-set and off set. What I do on set is different from what I am off set. I am a responsible man.
And you think people understand that?
They do, especially those who have come close to me.
As boy Alinco, has there been any embarrassing moment?
Yes, and that was the day I went to a bank in my jeans trousers and fitted shirt- the Alinco's outfit on set. The crowd was quite large and my intention was to use my personality to go in and get out. But in my hurry, I forgot I needed to go past the screening machine.
And when it was my turn, I had to remove my belt. And when I did, my trousers were almost fell off my waist. I had to hold on to it. With laughter ringing from corner of the banking hall, I had to make a joke out of that. It was really embarrassing.
What is the relationship of the Ajasco family outside the set?
We are a family.
You and Miss Pepeye?
I heard that too. But the story was wrong. I can't date her.
Why?
I can't date my colleague.
Is she not beautiful enough?
She is beautiful but I can't date her.
You mean you can't marry your colleague?
I can't marry an actress.
Are you scared of heartbreak?
Whatever you say is okay by me.
You can't stand her kissing another person on-set?
Maybe, I'm kind of a jealous person. The truth is that both of us cannot date outside the set.
What kind of woman would you prefer?
Very understanding, and must be funny too.
And the looks?
I like fair ladies and I don't like them fat. Her backside should be great too. I should be able to carry my woman and fling her around. I'm romantic and I would prefer her that way.
I schooled my woman to be romantic and she is catching up.
How was your growing up?
I grew up in a restricted environment. There was no time for fun and I had no friends. I never had fun growing up.
Fun?
Parties, beaches, groove with friends.
Your education
I have an ordinary national diploma but I'm currently at the Lagos State University studying Theatre Art for my degrees.
When you sit back at home and watch yourself on screen, what comes to your mind?
I used to yab myself and call myself all sort of names. But I don't do that anymore.
This first Alinco was a perfect guy. Why was he removed?
The only permanent thing in life is change. I cannot speak on what I don't know about, and perhaps you might wish to speak to the producer, Mr. Wale Adenuga on the matter.
Are you allowed to do other things outside Alinco?
As long as I don't replicate the role of Alinco, why not? My contract does not allow me to use my bald head else where, except when I'm on set as Alinco.
Are you paid for shaving your hair?
Yeah.
What don't you like about the job as it is now?
As a celebrity, there are some places you wouldn't go anymore. I hardly enter the Molue bus, and I can't go to roadside Bukas to enjoy my favourite, Amala and Gbegiri soup
Story by www.nollywoodgists.com