Horror: Graphic Image: Police Kill Teenager In Ogba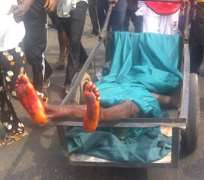 LAGOS, January 09, (THEWILL) – A team of RRS policemen on patrol in Ogba, Lagos have shot and killed a young teenager, who was said to have been playing street football.
According to eyewitnesses, an RRS Police van with armed policemen on patrol attempted to disperse a group of young teenagers who had gathered at the junction of their street near Yaya Abatan in the Ogba area to show their support for the labour strike action. Witnesses says the police fired shots in the air and on the ground and in the process, stray bullets hit 4 bystanders, killing one instantly.
Body of the teenager who was shot by the Police today in Ogba
The police were said to have carried those affected to the near by Area G police station and later took them to County Hospital for treatment. However the body of the young teenager who was shot has been carried away in a wheel barrow by the angry mob who surrounded the Area G police station..