OGUNLEWE TO GEORGE: I'LL BE LAGOS PDP CHAIRMAN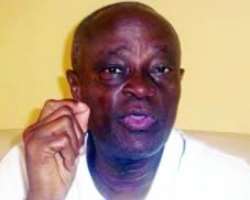 •Ogunlewe
Former works minister, Senator Adeseye Ogunlewe, is a man of many parts - former Permanent Secretary, former Senator, Minister and more.
In this interview with REMI ADEFULU, the Igbogbo, Ikorodu-born prince laments the stolen mandate of his party, the Peoples Democratic Party (PDP) in the recent Lagos Council polls.
The veteran politician, who is still angry with the scenario, blames the development on the former PDP Deputy National Chairman (South), Chief Bode George, but expresses hope of retrieving the mandate through the election tribunal.
He also speaks on the role of Lagos State Independent Electoral Commission (LASIEC) and ex-governor Tinubu's and in the polls. Excerpts:
Lagos Council polls
Unfortunately, the ACN thought we were going to boycott and it was the leadership of the party that was orchestrating boycott. They will get money from Bola Tinubu, get to Abuja, and tell them we are not prepared. I went to Abuja, met the national secretary of the party and I prevailed on him that we will contest the election and I phoned the National Legal Adviser of the party and told him 'Look oh, we are going to contest the election' and they agreed. That was why it was difficult for our leadership to collect money from ACN and boycott the election.
Polls controversy
There was no controversy because they (ACN) control LASIEC. It's easier for them to manipulate. They (PDP) gave Bode George N50 million to share to the contestants. He gave the money to his leaders and they didn't give the money to the candidates at all. All they gave them was only N200,000 and that was the cause of his problem because so many of these candidates are not happy. They didn't see N5 million they gave each of the leaders and that is why he is agitated and I am asking him questions, where is the N50m?
LASIEC's role
Of course, there was a connivance between LASIEC and ACN. How was it possible for the chairman of LASIEC to be announcing results? The results he announced was only PDP 1, ACN 5; no number of votes, no name of the winners and he has no role to play in this matter at all under the LASIEC law. It is the returning officer at the ward level and the returning officer at the local government level that are empowered legally under their own law to announce the results, not him. It was distasteful and disgraceful. One would not have expected an ex-chief judge of Lagos State to behave in that manner.
ACN's reaction
You know the man (state publicity secretary) is not from Lagos. It's chop, I chop. He doesn't know what he is saying. We are talking about local government election. We are talking about councillors. A councillor resides at the ward, so this one is not an election like the House of Assembly. What he is saying has no correlation. What about the 1.5m votes we got for the presidency? Where did we get that one from? Is that not an indication that its possible for us to win that election?
Lagos PDP crisis
No, there was no need. Elections are not collective. It is where you come from that you deliver. It is people that cannot deliver their polling booth who believe they must make noise. It's when you deliver that you have a voice. This man (pointing to a victorious PDP councillorship candidate) contested in Mende, am I the one that will go to Mende that they should not vote for him? Some of our people contested in Ikorodu, who is going to go to Ikorodu to tell them who to vote for? It is domesticated. It is the love of the people for the leadership in that locality that determines the success of the election, not an individual. It is not a presidential election, it is a totally localised election. It is how you fare in your locality that determines the result, not external influence. No.
Tinubu's statement
He knows some PDP leaders collected something from Abuja. Where is the money? They spent it. So, what they now do is to go and protest. Why didn't you give this money to these candidates, so that they can perform better. You spent the money, then you are now protesting. Are you not the one that has shot yourself on the foot? Let him (George) name the candidates he gave the money to. Let him pin-point and then let us call the candidates. The best he gave them was N200,000.
The candidates are still available. He can assemble them, and then the press will cross examine them, and let us know how much he gave to each of them. He spent the money. That is always his behaviour. Election is coming, he will play a prominent role, everybody must come to his house. He doesn't share money in the party secretariat. No! It is his house, so that he knows, what to do with the money. The man is a trickster and that is his stock-in-trade. And he is not starting now, he was doing so at primary school level. I know him very well (laughs).
Election Tribunal
I have gotten two Senior Advocates of Nigeria (SANs) now and we are going to tribunal, whether they like it or not. I am going there, and we've started to file our papers. And I can bring out all those candidates I have taken to the SAN to challenge this rubbish the ACN did, and we will win by the grace of God. There is no doubt at all.
INEC platform
Of course, it would have been better if INEC had conducted the election. They knew we defeated them hands down. Almost all the people are tired of ACN. Very tired because there is nothing to show at local government level in respect of their performances. No! They scored zero, and people were ready to challenge them.
Expulsion threat
That is not his (George's) role. He has no legal authority under the Constitution of Nigeria to determine who's a member of a political party. It's not his company. He should go and read his constitution. He doesn't understand what he is saying. He is the one who is not a member of the party. Under the party constitution; if you are dishonest; you are disqualified from being a member of the party.
So, who is a burden to the party now? Is it him or me? The trust given to him by the party, the trust given to him by his schools, the college, university he attended, the trust given to him by his family, the trust given to him by his church have been totally disgraced by his going to jail for corruption. N80 billion that is not a small money and the Reverend told him, go and sin no more and he has continued to sin. He has problem, and the problem is called prison insanity.
Earlier prediction on George
He mismanaged funds and this is not his first time. Even when he was in the Navy, the same thing. Babangida saved him. So, he has been used to this sort of thing. At the last local government election, he scored 31 votes at his polling booth, ACN 195, is that Ogunlewe? He didn't even come there to vote, because the people in the area told him not to come. He is not useful, even to his community because his father was a tenant, so they don't know him. He is from Papalanto (Ogun State). That was where they buried his father. I am an original born and bred Lagosian. I am a prince of Igbogbo, Ikorodu.
Alleged pact with ACN
I am working for ACN in his ward, in his polling booth? Okay, who made sure he lost in polling booth? It was me? Whereas, in Ikorodu, I delivered councillor, but for the fact that they changed the others, I would have won everything.
PDP congresses
That is his (George's) fear. I have put myself to serve as the chairman of the party and if he has a superior candidate, he should sponsor him. He has money. He should sponsor a candidate, campaign against me and let the party decide who is superior and if a candidate scores 10 per cent of my votes, I will resign. He has nobody. If he has, let that person come out to challenge me. He is afraid of his shadow because the period of chop chop has ended. For 12 years, it's chop chop. How do you glorify failure? As a member of Presidential Campaign Council, I went to Kano but how would it have been possible for the PDP to win Kano. I was the chairman of the Electoral Panel and I made sure the best candidate won. And he (George) says I am not a member of PDP. Why did they make me chairman of the panel?