FUEL SUBSIDY REMOVAL IS ANTI-PEOPLE POLICY - ADEBOWALE, CIPSAN BOSS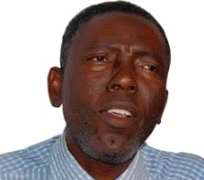 • Adebowale
The President, Certified Institute of Purchasing and Supply Administrators of Nigeria (CIPSAN), Dr. Mufutau Adebowale, said it is a welcome development that the Federal Government has finally taken the political will to remove petroleum subsidy, but added that caution must be taken not to visit unnecessary hardship on poor Nigerians.
According to him, Nigeria, till date, imports almost all its petroleum products, despite her over five decades of oil exploration. The reason? All the four refineries situated in Port Harcourt, River State; Kaduna and Warri, in Delta State, with combined capacity to refine 445,000 barrels of crude per day, are producing below capacity.
He noted that even if the refineries were to operate at optimum capacity, their output would have been grossly inadequate to meet the country's daily petroleum needs, which currently stands at about 32 million litres, and has been projected to hit 40 million in the year to come. He explained that a boost in the nation's refining capacity would reduce the volume of products imported.
'The poor state of the nation's refineries over the years, due to pipeline vandalisation and lack of maintenance, not only takes away the country's revenue, but results in massive petroleum products importation, which is subsidized by government.' He observed that petroleum importation has risen from 50 to 100 per cent, at a cost of N800 billion, from about N700 billion then. The CIPSAN boss disclosed that over N2.7 trillion was paid out on subsidy for the importation of petroleum products into the country from 2006 till early 2010. Of this figure, more than N1.3 trillion was paid to the Nigerian National Petroleum Corporation (NNPC), while the balance of more than N751.5 billion was paid to other marketers within the period.
He added that a total of N74.9 billion had been disbursed to fuel importers, including the NNPC, as subsidy for premium motor spirit (PMS) imported into the country in the first and second quarter of 2011 alone. He argues that the country must not continue to feed refineries abroad to the detriment of the ones at home by paying subsidies on imported refined petroleum products. 'We are keeping refineries abroad open, and shutting down ours. We Nigerians must support the government to stop this if we want our economy to move forward.'For full deregulation to take effect, government must ensure that the refineries are operational to meet local demand and other infrastructure such as roads and the rail system, which must be revamped.' He added that anything short of these would further impoverish the poor masses.
Adebowale noted that there is no economic sense in maintaining subsides, moreso when the money that would have been used to provide essential services for Nigerians ends up in the hands of a few in the name of subsidy payment.
He bared his mind on other related issues.
Excerpts:
Removal of subsidy
Removal of subsidy would cause unnecessary hardship on the citizenry. I believe that while the economics of it might be right, it will be anti-people policy. Therefore, Federal government must be cautious of its action. The Petroleum sector, just like any other, needs a holistic restructuring. We must move from importation of the products as the largest producer of oil, to value-added activities of refining our crude oil. We should move away from servicing other refineries abroad to building ours.
We are even encouraged that President Jonathan said, in a broadcast speech, that Nigeria is going to build more refiners, while reviving the old ones. That is what the president should focus on. This is what he has been elected to do. He never campaigned that when he gets into office within one year, he would increase fuel prices and inflict more hardship on Nigerians. The country is already tensed with physical insecurity; we should not add economic insecurity and should definitely not add income insecurity. Because more inflation and eroded income means economic insecurity. The angry workers and the angry masses that pay more for transportation and food cannot be patience with any government. We are already down economically.
As a matter of fact, it is the Nigerians that are subsidising the government. We subsidise by buying generators to power our houses and factories. We buy diesel at deregulated prices. We subsidise by building our boreholes and wells in the absence of public water supply. We subside by looking for money to pay school fees for our children because of absence of public schools. We subside by getting private security because, for whatever reason, the Nigerian policemen are not coping with the challenges of insecurity. We are the people who need sympathy because we are the people subsidising the government. The only way government will pay for our subsidy, as the case may be, is to make sure that they do not add additional burden on us through fuel price increase.
President Jonathan is talking about transformation agenda. You cannot transform if you do not have new transformation idea. This is the same old debate that we have been having in the past years. You will agree with me that this has put Nigeria in this precarious situation.
The issue of oil subsidy is not new in Nigeria. Some years back, there was a similar call for the removal of oil subsidy. It is a welcome development that the Federal Government has finally taken the hard decision, but caution must be taken not to add more sufferings on the poor masses. It is an audacious step towards total deregulation of the energy industry. Like the telecoms industry post deregulation market, determined prices will create the enabling incentive for private capital formation to flourish in the energy industry. Eventually, market mechanism will drive prices to competitive levels beneficial to consumers as currently witnessed in the telecoms industry.
Petroleum subsidy has been a failed attempt in an economy begging for subsidy on production. Whereas, it is through production that employment is generated. If in the 80s, the military regime had deregulated the power, energy, metallurgical and telecom industries as advised by IMF, the inefficiency of state monopolies in those industries would not have forced the country's light industrial production deceleration. Due to institutionalised corruption attendant to public finance in Nigeria, it has failed woefully to catalyze capital formation in the energy industry.
This will be redressed when the industry is deregulated, paving the way for capital formation through private equity type finance. Removal of petroleum subsidy is just a step towards eliminating the structural imbalances in the economy. Sustainable macro-economic transformation will occur only when the government privatizes all state enterprises that still occupy the commanding height of the economy. The economy can no longer continue to endure under their inefficiencies. Now that this is on, I would advise that the money realized from it should not be added as part of the nation's revenue.
Subsidy fund
Rather than adding the money to government purse, it should be kept aside and a fund created for it and let it be utilized for national development. The Botswana option should be adopted in this case. In Botswana, every money that comes in as revenue for the country is used for the development of the country, while salaries and other incomes of political office holders in that country are generated from public tax. I believed that if we added the petroleum subsidy as part of the nation's income, it would simply imply that the benefit of the Nigerian people had been given to politicians to mismanage.
If government is saying that oil subsidy from January till this time is N1.7 trillion, then removing the subsidy should mean that we must develop a specialized fund where the money will be kept strictly for development purpose, instead of adding the money to the revenue of the nation. We need to experiment on something like the silicon industrial project, like the government of California in the United States of America is currently doing, and let us see the result from such ventures.
The prices of petroleum products have been on the high because successive administration in the country failed to yield to popular advice that the nation's four refineries should be revived. As long as the nation continues to import fuel, the apostle of oil subsidy would continue to lie to the nation, while Nigerians would continue to suffer. We have four refineries that have been in comatose all this while. Successive administrations have ignored the advice that the refineries should be made to work to full capacity. We have all along been importing fuel and that is why Nigerians are suffering.
Manpower development
CIPSAN was incorporated under Decree 1 of 1990, with the responsibility to upgrade the level of the economy through the process of relevant profession in an embodiment of commercials activities having to do with procurement, logistics, storage and physical distribution of goods. In most industries, more than 60 per cent of the company's budget is expended on procurement of raw materials, out of which a large sum is spent on spare parts. The higher the quality of such materials and spare parts, the higher the opportunity for more wealth to be created by organizations, as finished goods are expected to be of high quality. This resultantly guarantees steady consumption and employment opportunities.
The Certified Institute of Purchasing and Supply Administrators of Nigeria, apart from offering relevant professional education and training, intends to put a stop to supply failure, a thing that has been the bane of many organizations across the country. Our goals are to train people and make them real professionals in purchasing and supply. We are also to make people knowledgeable in how to procure all aspects of materials for the industries, particularly the engineering oriented industries. As you can see, there is shortage of vehicles on our roads today, this is why we want to create that awareness, so that people can move away from the concept of inadequate educational processes in purchasing and supply areas. We want people in shift to the more difficult areas where people runaway from, which is the procurement of spare parts of motor vehicles and industries.
Contributions
Although our professional institute is relatively young I have responsible positions in industries, still, we are inadequate when it comes to purchasing and supply. Though people go to the tertiary institutions to obtain higher diploma in purchasing and supply, this is not sufficient enough to prepare them for the challenges posed by our economic inadequacies.
Secondly, our professional body is the first in the country to include spare parts procurement and spare logistics into the educational curriculum. We're trying our best, but we have been hampered by finance. For example in 1987, I floated Touts Spare Management Limited. The aim of the company is to organize international trade fairs, where manufacturers for motor assembly plants in foreign countries will come and exhibit their products. The motor assembly plants in Nigeria, which are owned by foreign establishments, are here as trading organizations. It is up to us as a country to formulate strategies that will develop us economically.
This professional body is equal to the task. For example, Peugeot is being manufactured in France, Fiat in Italy, Mercedes Benz in Germany, Volvo in Sweden, Ford in England; all these manufactures of different vehicles from different countries rely on suppliers and manufacturers of spare parts. Our technological development has to improve in order to make impact economically.
We have engineers in Nigeria that cannot produce because our education has been structured in a very negative direction. Therefore, we need engineering management, particularly spare parts management, on how we can fabricate spare parts. One of the aims of this professional body is to create a forum, where international investors from America and United Kingdom will be invited to meet their Nigerian counterparts to enable them put in place spare parts fabrication depots to feed the moribund assembly plants in Nigeria. We should be able to train our specialists in Nigeria on how to be involved in motor manufacturing process. The motor manufacturing can be divided into three viz: the technology, which is lacking in our institutions.
Way out of power crisis
Epileptic supply of electricity is seriously hampering our economy, as business owners depend on electricity for survival of their businesses across the country. Similarly, high cost of fuel is also hampering our economy. In October of year 2000, I advocated the establishment of Petroleum Distribution Commission for the purpose of smooth supply of petroleum products across the country. The incessant scarcity of the product was blamed on the fact that our retrieving was malfunctioning. I also advocated for the Independent Marketers to be assisted to have a depot like the major marketer, so that a kind of buffer stock would be maintained to ensure constant availability of petroleum products in the country.
The major marketers and the independent Marketers were to express their views based on realities associated with the distribution of products across the country. The representative from the Council of Registered Engineers (COREN) was to identify the causes of non-serviceability of our refineries, and ensure that Turn-Around-Maintenance was done efficiently and as at when due. Any unfounded claim by the Nigerian National Petroleum Corporation (NNPC) engineers and other authority in the petroleum environment was to be debunked at the committee meetings.
The representative from the Nigerian Labour Congress was to witness the situation and get carried along, so that labour unrest that may lead to economic catastrophy, would be avoided. A senior Police officer was to see to the cases of vandalisation of pipelines and proffer solutions to be adopted at the meeting. The member from ICAN was to evaluate the cost implication of policy issues to be adopted.
Obasanjo's administration took on my advice concerning the commission, and this is commendable. The committee on Petroleum Supply Distributions Commission was established. Again in 2004, the independent Petroleum Marketer Association of Nigeria (IPMAN) constructed very big fuel storage.
The Committee on Petroleum Supply Distribution performed far below expectations. The Petroleum Product Pricing and Regulatory Agency (PPPRA) became very powerful and counterproductive, using Archaic (from archeaology) and obsolete economy analysis to formulate policies. It has been using yesterday's techniques in solving today's problems, taking the entire country backward. We are the sixth largest oil producing country in the whole world and we still depend on importation of fuel. We do not need inter-country price comparison. China is not Nigeria, and Japan is different from Nigeria. These are industrialized countries and their citizen can afford to pay any price for petroleum product.
Although our economy is growing but we lack development. We are making a lot of money from export of petroleum products but not industries. We depend on foreign countries for importation of virtually every item. From cooking stoves to wrist watches; from marrows-glass to stapler and now, we import fuel. Our dependency syndrome is killing our economy. Another serious problem we have in this country is misguided advice to the government. Our highly placed officials and appointed government advisers are overfed and too lazy to go out and familiarise themselves with realities of things in the society. They just give advice to the Federal and state governments without actually diagnosing the problems underneath.
When fuel prices were increased in June, transporters across the country increased their fares and reverted to the former when the fuel price increase were dropped by the government. If there is another price increase now, the situation would be outrageous as commuters would face more hectic times, due to further increases in transport fare, the inflection would become dangerously high because our economic activities are tied to transportation. Market men and women, farmers, school children, workers and applicants spend a lot of money on transportation daily. Invariably, transport costs would shoot-up the prices of the generality of goods and services.
The way out of this predicament is not far fetched. First of all, we have to take cognisance of the fact that there are much more to the ethos behind the incessant fuel price increase. Before the year 2000 June fuel price increase, a litre of petrol was selling at twenty naira, and the scramble to buy fuel was not evident. But for some years now, pump stations are being built indiscriminately everywhere in the country. Why is it so? A sizeable filling station gulps a lot of money.
A pump station involves a huge capital investment, which cannot be recouped from profit generated in less than twenty years. The pertinent questions now is that with people building pump stations everyday, in spite of the fuel price increase, occasioned by importation of the product, why are the refineries not activated?