THE NEED FOR A FREE AND FAIR ELECTION IN ADAMAWA STATE ON JANUARY 14TH 2012.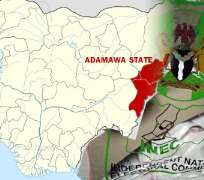 Adamawa State has the largest concentration of tribes and languages in Nigeria. While some estimate put it at seventy-eight (78), others put it at one hundred and three (103).
One thing is certain. Adamawa State is the most heterogeneous state in Nigeria followed probably by Plateau State and Taraba State in that order.
Since the beginning of this present political dispensation, gubernatorial elections in Adamawa State have been contentious. The one that easily comes to my mind was the 2007 election. The PDP gubernatorial primaries was rancorous as there was allegation that Chief Obasanjo was said to have single handedly imposed an unpopular candidate on their party. As if that was not enough, the then AC candidate was disqualified by Professor Maurice Iwu's INEC. The re-run election was not any better.
Fortunately for Adamawa people, it seems it is a new dawn. Both President Goodluck Ebele Jonathan and Professor Atahiru Jega have been preaching the gospel of free and fair election. Nigerians have witnessed that in a free and fair contest, it is possible to defeat the ncumbent as was seen in Nasarawa State, Imo State, Oyo State and Zamfara State. Especially when the incumbent governor has performed below expectation and state civil servants are owed salary arrears of between three months to 12 months.
Even the 1999 gubernatorial election in Adamawa State was not any better as the Supreme Court of Nigeria had to adjudicate for once on a gubernatorial appeal which ordinarily ought to terminate at the Court of Appeal.
The Nigerian democracy is gradually maturing. There is need therefore for powers that be to allow the citizens chose those who they want to lead them. This is therefore a special appeal to President Goodluck Jonathan to prevail on INEC and the security forces especially the police not to be used to rig the Adamawa gubernatorial election of 14th January 2012 in favour of any candidate. For the election to be free and fair there is need to send fresh and new electoral umpires to Adamawa State by INEC. New security forces commander need to be on ground too.
Mr President Sir, please let Adamawa people's votes count this time.
Iliya Yame Kwache, writes from Bama Road Michika Adamawa State.
Disclaimer:

"The views/contents expressed in this article are the sole responsibility of

thewillnigeria.com

and do not necessarily reflect those of The Nigerian Voice. The Nigerian Voice will not be responsible or liable for any inaccurate or incorrect statements contained in this article."
Articles by thewillnigeria.com