'Tough fans made me cry' -----Lola Alao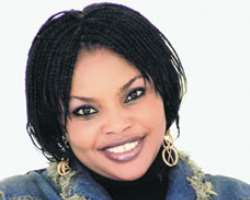 Lola Alao is undeniably one of Nollyhood's glowing stars. She had two dreams while growing up: to become an Air hostess and a TV personality. Those dreams are now realities. After working with Okada Airline briefly as Air Hostess she ventured into acting and became a versatile actress who has been able
to combine both English and Yoruba movies perfectly. She started in the nineties with Ripples, Fortunes and Magnet, but Yoruba movies like 'Eko Wen Je Le', 'Ale Ariwo' and 'Boya Le Mo' brought her into the limelight. In this interview with RONKE KEHINDE and ADETUTU BALOGUN, she talks about her upcoming 4-in-1 celebration, including her English soap opera, 'Da-Silver', a Yoruba serial drama; 'Baye se gba', a talk show; – 'Celebrityhood with Lola Alao;' and the launch of her movie, 'Omo Ajanaku'. She also talks about her memorable and embarrassing moments with fans and the press.
What is 4-in-1 celebration all about?
It has to do with the premiere of my new soap opera called 'Da-silva', the Yoruba is 'Baye se gba' and the third which is a recorded programme is called 'Celebrityhood with Lola Alao'. I've started recording in the last two years. It's going to show in all of our local channels and probably DSTV or HITV.
What is 'Baye se gba' all about?
It is a Yoruba show whereby we educate people about real issues like family issues. A lot of people encounter little problems at home; they don't know how to go about it. You know we women, a lot of things we are supposed to do at the right time we don't do them. We producers, actors and actresses; we are like Pastors. It's not only when we have a Church before we can preach to people to correct mistakes. Both 'Da-Silver' and 'Baye Se Gba' are family programmes to correct family mistakes.
Are they the same programme but one in English and the other in Yoruba?
No, they are not the same. They are different programmes, different stories and different casts. The aim is just to correct mistakes and educate people. The third show has many segments. 'Celebrityhood with Lola Alao'. There is a segment whereby a celebrity will talk about his or her traditional meal and will prepare it. Another segment is where a lawyer will educate people on their rights, either as a landlord, tenant and so on. We have health segment where a doctor will educate us about different kinds of ailments or diseases, like cancer, how to go about it and how to prevent it. Another segment has to do with youth. The mistakes they make and their rights. There is also the fashion segment, the mistakes in dressing and so on. That is what the talk show is all about.
What about the fourth show?
Omo Ajanaku is my movie that I'm going to launch. We have people like Jide Kosoko, Remi Surutu, Olumide Bakare, Saidi Balogun, Yomi Fash Lanso, Ayo Badmus, myself and so many more.
When are we going to start seeing the movies?
You are going to watch it on that day because we are going to invite some advertising agencies to come and watch. They will now pick which one of the four packages that interests them.
You've been acting for a while, which one of your work do you think brought you into the limelight?
I think it's the Yoruba. I started acting, long time ago, with Ripples. I was also in Fortunes and Magnet.
What part did you play in Ripples?
I acted with Mahmoud Arab who played Fidel in 'Ripples'. I acted as his secretary. I was Sarah Gyang in 'Fortunes'. Then in 'Magnet', I acted the younger sister to Tokunbo's fiancee. I was Shade. I acted alongside Tina Mba who was dating my brother and I was giving her problem. Then 'Closet' was Charles Owoyemi's soap. I acted Zelda, the wicked mistress that Deji Moluyi had outside. I was in 'Mistress Revolt', owned by Dudu Heritage. I was in Super Story, 'For The Love of You'. I also was in 'Bitter Encounter'. I produced my first Yoruba story in 1994 which is 'Aiye Ma Le', directed by Chico Ejiro. I started acting in Yoruba movies, when I did 'Owo Ale', by Bukky Wright. But the movies that really brought me out are 'Boya Le Mo', 'Eko Wen Je Le' and 'Ale Ariwo'.
If you want to count, how many years ago have you been acting?
I don't know because I've not been counting but it has been a long time.
As a popular actress you must have gotten some embarrassing moments with fans, can you share it with us?
There was a day I went to Oshodi Local Government to see a friend of mine. When I was coming out I met these school children and they won't let me go. Thousands of them surrounded my car. I gave them money; they said they didn't want money but that I should come down from the car. Before then, another actor, Latin, had his arms broken by his fans. So I was very scared that if I come down they may push me and break my arms. I even called policemen; they said they couldn't help, that they were my fans I should face it. I wept and wept that day, it was terrible even my sister was crying in the car. They were very many, about three secondary schools are in that compound. They were shouting Lola!, Lola! Another experience was in Daleko. I went to Tejuosho to do some shopping. On my way back, I met these area boys. The only money that was left in my bag that day was N200. They told me 'Mamaa fun wa lowo, (Give us money).' When I gave them what I had, they told me, 'Owo wa ko ni yen o, (This is not our money).' They embarrassed me on that day. One of them had to follow me to my shop to give them money.
When you were growing up, what was your dream and ambition?
Funny enough, when I was growing up I used to watch late Tokunbo Ajayi. I wanted to be a Newscaster because I liked her, the way she used to say 'Kashiko, Odaro' and all that after reading her news. I also wanted to become an Air Hostess. So I told my parents I wanted to become an Air Hostess and also a TV person. And behold I became an Air Hostess. I worked with Okada Airline and now I'm an actress, not a Newscaster.
Share with us some of your memorable moments as an actress?
When they called us for an award in Dublin, it was my first time of traveling out of the country. When we got there, they came with Limousine to carry us from the Airport. The white men were collecting our bags; a lot of people were snapping us pictures, I was like 'Se emi ni eleyi? (Is this me?). I was just crying and I was happy.
When was that?
It was 2003/2004, Afro Dublin Award.
Where did you grow up?
I grew up in the Barracks. My father was a soldier. 'Omo Soldier ni mi' I grew up at Sobi Barracks Ilorin and Charity Barracks, Oshodi.
What is your educational background?
I went to the Army Children School, Ilorin. When I came to Lagos, I went to Apata Memorial High School. I had my Diploma at YWCA, at Obalende and I read Theater Arts at UNILAG.
How did you become an Air Hostess?
A friend of mine, Bunmi Oropo came to my house. She told me that there was an interview for Air Hostess. I said I wasn't going. She said we should go. We went there and they took me. Madam Shelly, Igbinedion's wife, was the person that chose me. We were over 2,000 girls and they wanted only 200 girls. They took us to Benin, there was a chartered flight from Lagos to Benin. And I was chosen.
Who influenced you in acting?
Ayo Magaji. Her acting is superb. I'll give it to her anytime, any day; her spoken English and the way she delivers her role.
Have you had any embarrassing moment?
A lot with the press; journalists. They'll just wake up one day and write one or two things they don't even know if it's true or not. But I'm not bothered any more. For instance with the 'News of the People'. I'm not even bothered about them anymore. Initially I was bothered. They wrote that Lola Alao confessed why she committed adultery. The journalist that I've never seen before, we've never spoken before and he has never spoken with my ex-husband before. He used the word a 'Notorious Actress' for me. I even called him to ask if he has seen me before. He said 'No'. I asked: Have we met one on one before? He said, 'No'. Have you ever spoken with my ex-husband? He said, 'No'. I said why did you now refer to me as a notorious actress? Why did you write that I confessed? He said he read it in one paper.
So you can imagine the rate at which journalism is going. When I was coming today, I saw the same magazine that wrote that Pastor Bimbo Odukoya is in hell. So who am I, if they can condemn the dead. Who is Lola to now complain. There is another journalist that I've never seen before, we only spoke on the phone. He wrote 'How Lola Alao used Juju on me'. That was the headline on Top Celebrity. That is a person I've never seen before, and Top Celebrity editor did not deem it fit to call me and they published because they want to sell their paper. I'm not bothered anymore. They want to sell their paper and they needed something to sell. Journalism in Nigeria has gone so terrible that they even abuse themselves. How can a publisher bring out his biro to abuse another publisher? Does it make sense. Won ni adie ko kin je ifun ara won, eyin ti nje ifun ara yin'. I'm not bothered about the press anymore. If a paper can write that Late Pastor Bimbo Odukoya is in hell, then what are we talking about. That's the height of it.
What other things are you planning apart from the 4-in-1 celebration?
My birthday is December 19, but because of Trisia my friend, she will be wedding on that day; the following day I'll be marking it at Ilase Beach with my friends, 50 Exclusive. We will celebrate together.
What do you have to tell your fans?
I love them. Without them there will be no me. Recently at Ibidapo Obe's premiere, you need to see how my fans were coming to me it took the intervention of the Madi, the comedian and the M.C. She said, 'You people should leave Lola alone o, so that we can continue'. Everybody was coming to snap with me and I said to myself, so these bad publicity does not make any impact. That means they even knew they were lying. I love my fans, God bless them. They should keep praying for me. God will continue to bless them so that they will keep on buying our works.
What do you do apart from acting?
Initially, I go to Italy to buy things and sell, until armed robbers attacked me last year December. I still have more plans, I'll let you know when time comes.
Story by http://nollywoodgists.com