Desmond Elliot and his fans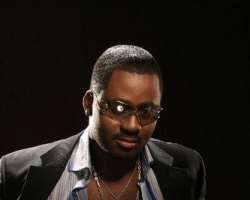 It is not uncommon to see Nollywood stars being accosted by their fans at every time and so it was not surprising when little girls who are fans of Desmond Elliot decided to say hi to their favourite star just that he got different receptions from the girls.
The first girl, Zainab actually asked her mother to introduce her to Desmond and when the mother did the actor bent to her level to say hi to her but she withdrew her hand and ran away. Peeping at him through her mothers skirt and one wondered which of Desmonds' movies the girl didn't like that scared her from the actor.
But while still chewing on that, another little girl with the same name, Zainab walked up to Desmond and introduced herself, bringing out her hand for a hand shake which she got from the star.
Story by http://nollywoodgists.com