Adaora Uko's unending love for paparazzi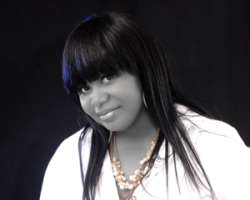 Adaora Uko is not only big in size, she is also a big babe in Nollywood.
Though she is yet to hit the A-list category, Adaora has become so known in the industry, no thanks to the scandals that have followed her around.
Remember she was the one who allegedly told Ini Edo that Uche Jombo said her marriage wasn't going to last more than a year? Of course, the rumour caused the bossom friends (Ini and Uche) to become sworn enemies for some time before they settled again.
Apart from that, it was rumoured that her foreign-based boyfriend has dumped her.
Anyway, one thing you cannot take away from Adaora is her love for publicity, be it good or bad.
Those who know her said that Adaora craves publicity so much that she can do anything to be seen on the pages of magazines.
And truly, at a birthday bash of one of her colleagues, whcih held in Lagos recently, Adaora's 'notice me' attitude was brought to the fore again.
Our Nollywood gal almost collapsed when the paparazzi had not taken her photograph.
Adaora, as we gathered, pleaded with a particular photographer to take her picture.
"Is it that I am no longer fat that you are yet to notice me and take my picture? Please 'nah', snap me, please."
The photographer took pity at the almost desperate actress and took some snapshots of the actress as he did other celebrities.
Story by http://nollywoodgists.com