People thought I was crazy when I abadoned banking for Nollywood – Vivian Ejike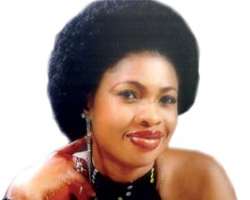 Walking out of the banking hall, and venturing into the world of movie making, Vivian Ejike does not look like an amateur in the entertainment industry. In fact, since her emergence over a decade, the effervescent female movie producer and linguist has continued to prove her mettle in quality movie production.
With close to a dozen quality movies to her credit, the French graduate from the University of Port-Harcourt, Rivers State is, however, not resting on her knees, as she continues to churn out more movies from her stable.
Her latest movie, 'Silent Scandals"premiered in Ghana, yesterday, is billed to premiere in Lagos tomorrow, at the Oriental Hotel, Victoria Island. In this encounter, Vivian shares the story of her journey into Nollywood as well as the qualities that stand her new movie out from the earlier works she has done.
Enjoy it…
Your latest movie premiered yesterday in Ghana, and will be launched in Lagos tomorrow. Why the title, Silent Scandal?
Silent Scandal is an explosive movie full of scandals, a star-studded Nollywood movie produced by Purple Pine Production, which is my outfit.
The movie will also be marketed and distributed globally by Nollywood Distribution Company, a strictly film and video distribution company, owned by Emem Isong, another female film maker and myself. Stars in the movie include Genevieve Nnaji, who played the lead role, Michael Majid, Uche Jombo, Ebele Okaro and a host of others.
My good friend and leading fashion designer, Zizi Cardow, alongside her models also did a cameo appearance in the movie.
It was shot here in Lagos with a very high equipment that we bought recently. We tried as much as possible to use equipment that can compete favourably with any equipment across the world. This movie is the first ever job that we will be doing using the new equipment.
There's an obvious difference between my latest movie and the other movies I'd done in the past in terms of quality pictures and good acting. A young Nigerian film maker based in Los Angeles, USA, T.K Falopo directed it. I wrote and screen played the movie myself.
Silent Scandal is a twisted family story. It is also a very challenging job and my seventh as a movie maker. It has a unique storyline with several new discoveries, which all helped to make the movie tick.
Mind you, I was an undergraduate in 1993 when I produced my first movie, before Jeta Amata came on board. Above all, it's a big budget movie with quality storyline and shot with the latest equipment. In a nutshell, it's a dramatic love story that revolves around the hidden and triangular love lives of a strict mum, her spoilt daughter and an indigent toy boy.
Initially, this movie was scheduled to premiere in America and London last month but we had to cancel the plan, because the lead character Genevieve Nnaji was on location. There's no way we could have decided to go ahead and premier the movie over there without her presence as many fans are looking forward to meeting her in person.
What about the hurdles you faced before breaking through in the industry?
I love movie making and it's fun for me. I'm a realist. And I'm conscious of what I do. The phrase "can I do it?" does not exist in my dictionary.
It's as a result of my love for Nollywood that made me walk out of my banking job to begin a new career in movie making. I left banking for Nollywood because of my passion for the industry and the arts, in fact, it was because I didn't have a job satisfaction in the first place.
Many people, including my parents viewed it from a bad angle. They persuaded me to go back to banking. But like I told you, I have a passion for the Nollywood,especially movie making. Between 1999 and 2002, I was a top player in the banking industry but my heart was still with Nollywood. I was in the banking world but my spirit was with Nollywood.
I left the banking sector as the head of private banking nationwide. I worked with defunct Eagle Bank before I moved to the former Broad Bank, now Union Bank. I didn't have job satisfaction because every time you are privileged to open my office drawer, you would see clips of Nollywood movies and scripts.
I actually knew what I wanted in life. Later, I travelled out of the country, and when I returned, I didn't bother to go back to the banking hall. Rather, I opted to pursue a career in movie making. Many people thought I was taking a wrong decision because I was doing very well. But I stood my ground despite the odds.
For resigning as the head of private banking, my parents were totally against me, especially my Dad, who was a banker for more than 30 years. So, banking is a sort of a family tradition. But I am a non conformist. I knew my calling was in the entertainment industry and not banking. Because I come from a family of bankers, my going into banking was to satisfy everybody. But at the end of the day, I didn't find the excitement and the challenges I wanted and hence, I walked out of the job.
Today, I feel very good and happy wherever I see my movies on shelves. I intend spending the rest of my life making movies. I'm not sure I can do any other thing very well now, except movie making.
Did you have beautiful experience the first time you tried your hands in producing movie?
Not really. When I did my first movie, after my return to the country, I lost a lot of money in the process. A friend of mine collaborated with me to do that movie. Unfortunately, we had our monies trapped in the business. The second movie we also produced brought nothing to us.
We had two movies to our credit, yet we had no money in our accounts. Of course, anybody who has no passion for film making would definitely have been discouraged. As a result, my friend decided to back out from the business, but I continued. For me, I couldn't see myself doing anything else. I had to stay put in the industry.
What would you say have been your driving force in Nollywood?
I love quality. Anything quality, I try to identify with it. And this explains why I went out of my way to start making posters with celebrated photographer, Kelechi Amadi-Obi because I love quality. And that's what drives me.
Story by http://nollywoodgists.com