NIGERIANS IN DIASPORA, USA (Fact Book)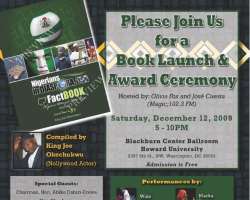 With a population of nearly 150 million people, Nigeria is the most populous black nation on earth. It is often said that one of every four Africans is Nigerian. Yet Nigeria's national image has continued to decline, despite the outstanding accomplishments and contributions of many of its citizens. The rest of the world almost always views Nigeria and Nigerians "in the negative". People all over the world, numerous concerned Nigerians wonder why this struggling "Giant of Africa" is so easily identified with varying degrees of wanton depravity. A consistent barrage of troubling questions are often asked: who the heck are Nigerians; why all the fraud, scam and spite; why so much negativity; are there any values; are they all crooks; why are they so aggressive; how African are they; etc.? For the first time, these "Nigerian questions" will be answered with facts and figures. Outstanding Nigerians in the USA who diligently, against great odds, upheld true Nigerian values are honored like with a national award of excellence. Nigeria's African heritage is celebrated in grand style, as Africans from across the board converge to connect the dots with Nigeria. NIGERIANS IN DIASPORA, USA (Fact Book) is the book version of a documentary started months ago by a Nollywood Actor, King Joe Okechukwu showing the rest of the world that side of Nigeria that only well informed Nigerians could have been in a position to reveal- -the undeniable positives.
The book launch/fundraiser/award ceremony will take place at the Blackburn Center Ballroom, Howard University, Washington, DC on Saturday, December 12 2009, from 7-10pm. The event will be hosted by Magic 102.3 fm's Olivia Fox and Jose Cuesta. DNA Test kits and services from African Ancestry also will be available. Performances are by Wale, Macka Diamond, Rev. Vernon Burch, Koluerz, Farafina Kan, Ohafia War Dance, etc Among the list of honorees are: "A Father of the Internet-CNN", Philip Emeagwali (Nigerian) America's youngest pilots, Kelly and Kimberly Anyadike (Nigerians) GM's Chevy Volt Concept Designer, Jelani Aliyu (Nigerian) The movie "2012" star actor, Chiwetel Ejiofor (Nigerian) NBA's MVP, Hakeem Olajuwon (Nigerian) CAMAC's CEO, Kase Lawal (Nigerian) Hollywood's rising star, Wale (Nigerian) First African-born elected official in the state of Michigan, Kyrian Nwagwu (Nigerian), and a host of others Event is Presented by the Nigerian Embassy in Washington, DC and the House Committee on Diaspora, Federal House of Representatives, Abuja, Nigeria; supported by the Federal Ministry of Information & Communications and organized by World Ebony Network, a non-profit Organization dedicated to reuniting all people of African ancestry with their traditional/cultural heritage. Admission is FREE!
Story by http://nollywoodgists.com