Why Chidi Mokeme is in sex toy business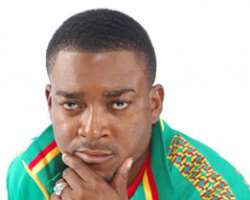 Indeed, the news was so rife that many concluded there was more to this actor, Chidi Mokeme than just acting. However, the actor who many would have thought would immediately deny owning a shop were he sells sex toys, all the same, admits the truth but told nollywoodgists.com that it depends on what people mean by sex toys.
Mokeme argues that a lot of people are walking around with one sexual dysfunction or the other and need help through books, toys and other things to help spice up their sex life.
His shop is ready to provide such services to whoever is in need and believe it or not, nfc can authoritatively reveal that a lot of people have already patronized the shop for one service or the other and business is booming.
Hmm! Is there anything wrong in helping one get back the fun of his/her sexual life? This is perhaps the question Chidi is asking all who are wondering why he is into this "weird" business.
And if you are wondering about his relationship with powerful women, Chidi says it's a matter of show me your friend and I'll tell you who you are, which means he associates with this people so their success can rub off on him.
Story by http://nollywoodgists.com