Nigerians undergo training in film making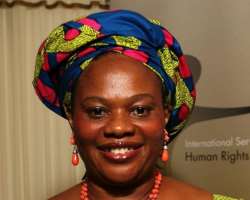 Nigeria is the world's second largest film-producing country but, according to the managing director of Del York International, Linus Idahosa, there is a need "to stem the tide of marginal competence in the (Nigerian film) industry".
With this in view, Del York International is partnering with the prestigious New York Film Academy to conduct film-making and acting training programmes in Nigeria.
Del York International hosted journalists in Abuja, on Tuesday, November 24, 2009. The press briefing held at the International Conference Centre, and was attended by Nollywood actors, Stephanie Okereke and Francis Duru. Miss Okereke, who is a graduate of the New York Film Academy, spoke about the success of her debut work, "Through the Glass" - a film she wrote, directed, co-produced and starred in.
The special guest speakers were the Minister for Information and Communication, Dora Akunyili; and Emeka Mba, the director-general of the Nigerian Film and Video Censors Board.
Mrs. Akunyili stressed that the film industry is one more tool in laundering Nigeria's image. Making reference to the controversial Sony advert and Hollywood film "District 9", she implored "Nollywood, please help us to tell our own stories."
Mr. Mba pointed out that local storytelling could be inadequate, citing the difference in the portrayal of magic and witchcraft in the Harry Potter series and Nollywood films.
The Del York-organised programme is the first outing of the film academy to Africa and will cater for 1000 students in both Abuja (February) and Lagos (March). Tuition for each student is $3,500.

Story by http://nollywoodgists.com