MONA LISA CHINDA GLOWS AT DOUBLE PREMIERE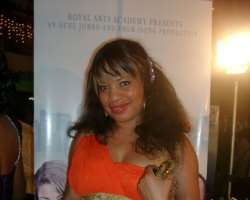 Glo Ambassador Mona Lisa Chinda like the telecom brand she represents, glowed at the double premiere of the movies, 'Guilty Pleasures' and 'Nollywood Hustler' which took place at SilverBird Galleria, Victoria island, Lagos.
The star who was resplendent in an orange and gold roman-inspired dress, dazzled at the event which was well represented by members of the entertainment world as well as the business community. In a brief chat with the actress, she intimated me on a few details about one of the movies. "In 'Nollywood Hustler' I played a conceited, haughty version of myself and I must say I really had fun playing it. I had to scream, act horrified and even punch a couple of people which is so unlike me! I'm usually quite good natured'. On being asked about the premiere she had this to say, 'One word; Awesome! The event lived up to its billing… classy, well attended, beautiful!' Any favourites? 'They are both so different so they can't really be compared. One was a comedy (Nollywood Hustler) and the other was a drama (Guilty Pleasures) so there was no basis for comparison'.
The movies were produced by Emem Isong in collaboration with Uche Jombo (Nollywood Hustler) and Desmond Elliot (Guilty Pleasures). 'Guilty Pleasures' continues to show at all SilverBird Cinemas in Lagos, Port Harcourt, Abuja and later Accra. It is not to be missed.
By Bola Aduwo EXCLUSIVE for nollywoodgists.com
Story by http://nollywoodgists.com