Shan George Says There's No Problem in Nollywood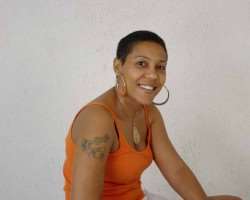 Failed Marriages. Romps with younger lovers. Near-nude acting. Partner-snatching brouhaha. Actress Shan George has been in the news for many things that have nothing to do with acting. So when Biodun Ogundairo dragged her away from all the drama and controversies, she was glad to open up on her new projects, and her views concerning Nigeria's movie industry…
Excerpts
You have been producing acting and modeling for some time. But all of a sudden, you went a little bit underground. And now with a new film "The Zebra Man". What actually inspired the movie?
What inspired the 'The Zebra man" the need to grow further, to impact, to extend our tentacles form Nigeria, Africa to the other parts of the world. That's what basically inspired the movie. The need to impact, to grow and cross borders.
What challenges do you foresee during the shoot?
Well like the saying goes, nothing good comes easy. It's not really been easy and I'm not even expecting it to get easier. But I have prepared myself, my mind. I have prepared myself psychologically, mentally, physically, financially and other wise for it and I put God first.
What message do you intend to pass across with the movie?
It's a comedy. It is more like something to entertain you. Something to ease off your stress. Like you went to work, you face the entire hold up, and all the okada and bus drivers are hitting you and they are claiming that you drove badly when they are the ones at that drove badly. And after all have been said and done, you get home and you're stressed out. Then there is something to make you laugh. So the story is comedy. Something to entertain you. It's not too bent on you want to get married or we want to teach you on how you will relate with your father. Ninety-percent entertainment and it has a lot of musical performances.
Combining Movie production, acting and singing at the same time. Don't you think you're dipping your fingers into too much?
No, I like to correct that impression. I am not doing many things at a time. I may be doing a lot of things but not the same time. I'm taking them one at a time and that's how I have been handling it all. I take the time like say ok, in the next two months, I will be doing so and so movies. Then I take time off like a week or two. Then I plan to do what next I want to do and what I want to do now is in the next six weeks, I will be doing a music track. That's how I do it.
Why did you choose Spain as your next point of call in your movie career?
Actually, I didn't chose Spain, Spain choose me.
How did that happen?
It happened through correspondence, through the internet. Personally through the internet. There is this school mate of mine; we went to UNILAG together. His name is Niyi Babade. He actually started the introduction. And he introduced me to the guy who contacted him that they will like to take part in Nollywood movies. And he said to them an old school mate of mine is in the movie industry right now. Then they said they needed someone who can actually produce it not only act. Then this Niyi guy called me and told me about them. Then he gave them my e-mail address then we started corresponding and here we are. They are in Nigeria.
How much will the movie be setting you back, financially?
The movie is a very capital intensive movie. It is costing much because we are using the best and the newest technology. We are using best hands, we are using the big Nollyhood actors and because of that, we are part sponsoring. We are like after the whole budget, they will bring part of it then we bring part of it. We constituting myself and my boy friend, Akin Jayeola.
What informed the choice of the Nigerian acts?
I have been producing movies since 1998 and I have actually worked with at least more than 80 percent of the Nollywood actors .So what actually gives the total conviction about who plays what is first of all, the story line. Secondly, characterization and thirdly the artistic direction of the artiste. For now, these people -Basorge (Tariah Jnr), Segun Arinze, Sam Loco Efe – they are the esteemed individuals that are there and I think they will bring out something very fantastic.
What has actually happened to your musical career?
I have done the music and I'm still trying a shoot the video. For now, even this movie am shooting, the role am playing in it is a role of a singer and am going to be doing a lot of my tracks. So the music thing is still very much alive.
Can you tell us the titles of some of the tracks?
There is one called "Ogogo". The whole album is in my native language..
Why?
Because I'm trying to promote our own thing. Our own culture, our own language, our own song. Because people like Awilo sing what they sing and we don't even understand what they are saying. And we didn't even understand what they are saying. And we really enjoyed music, we club, we party and I don't see why we can't do own music in our own dialect and culture and feel that kind of impact Awilo made. So am trying to do that now.
What is your opinion about Nollywood with all the many crises around it?
When people keep saying all the problems in Nollywood, all the problems in Nollywood, I keep wondering what they are talking about. There is no problem in Nollywood that they don't have in other industries. You can see the problems we have in the education sector, even the health sector. Every sector in Nigeria is having problems. But I don't see them as problems. I see them as challenges and I see them as things we will definitely work on and get by. Just a matter of time. The only challenge I see in the movie industry is not in the political problem; it's in the distribution of our products. That's why they keep saying there's piracy everywhere. If for example you make a very good movie and you advertise it, you paste posters and all that. And people see these adverts and really want to watch it and you the distributor didn't even print enough to cover Lagos State, how do you want people in Ibadan to see it? They will pirate it because people are asking for it. Some guy somewhere who feels you are not doing your job very well will help you do your job. Another attitude they have in Nollywood is that, when a movie comes out, after a month you don't even get to see it on the street again. Then if you that have the movie don't do it then someone will do your job for you
Story by http://nollywoodgists.com