'Nollywood could vanish in a few years to come' -----Amaka Igwe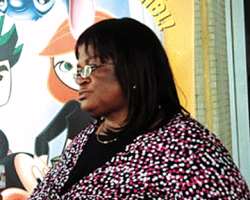 THE need to review trends, business policy and regulatory environment of content in broadcasting, particularly the imminent change from analogue to high definition in the country, is one of the reasons organisers of BOBTV have decided to stage a mini-version of the event. Scheduled to hold in Lagos, at the Protea Hotels, Ikeja, on December 8, beginning from 9am, the founder, BOBTV, Amaka Igwe revealed would have experts meet to examine content delivery systems in a high definition broadcast environment. While adding that this is not another 'talk shop', Igwe, producer and director of Fuji House of Commotion said the one-day event would feature local and international content available for acquisition in the New Year and also, an exhibition on the latest technologies for high definition, broadband as well as software. Igwe spoke to nollywoodgists.com in Lagos.
Couldn't it have waited till BOBTV 2010?
It is not about urgency, but more like a promotion of content direction for the New Year and as government is coming out with policy on high definition, we thought it wise to have a chat on that at this point.
Why content and not distribution?
Yes, we should be very concerned about distribution and as you know, we have made efforts in this direction. However, are we saying we are not yet in El Dorado as per content? Anyway, the conference is on distribution on HD platform, therefore, the need to pay attention to HD content.
A dozen communiqué in Nollywood and no action
Well, unless the talk is done first, there would be no action, anyway. BOBTV talks have caused actions to be taken both by government and private individuals, so, the effort is not fruitless.
Local content on our television stations
Surprising, they are. The snag is that anything goes: the good, the bad and the ugly, all in the name of local content. But it's a good start.
And BOBTV 2010
Great stuff: new technology, great networking, great ideas, policy formation ... the usual and more.
Nollywood after UNESCO's ratings
Of course, it would drop; (UNESCO had after a survey voted Nollywood second best movie industry in the world) and not that I really care about such ratings. Nollywood has been in decline over the past two years and very few people have noticed it. Unless something drastic is done, Nollywood may totally vanish in years to come.
Story by http://nollywoodgists.com