PDP GUBER AND SOKOTO PAPER TIGERS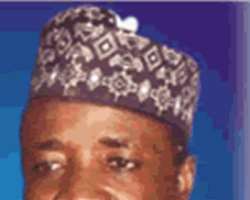 The outcome of the Peoples Democratic Party (PDP) governorship primary in Sokoto has clearly shown who the favourite candidate of the people is. It also means that all along the duo of Gada and Yusuf Sulaiman are just into the contest for the sake of it and not because they have support base or political influence. They are paper tigers, whose support or political clout is imagined. The outcome has vindicated this assertion. In truth is that the two of them knows they don't stand a chance against a formidable and well grounded Magatakarda Wamakko.
Wamakko's political machinery or structure did not just germinate yesterday. It is a process that went through a lot of metamorphosis over the years before it became well rooted.
Democracy is about freedom of choice. The fact that the people have the right to choose whoever they feel they can entrust their future and destiny makes democracy a beautiful enterprise. Gada, the antelope that failed to run on the very day his scanty followers expected him to put up a strong showing, is as bold as brass. Their expectation is probably based on the noise he has made prior to the primaries and the name dropping he embarked on along with his friend, Yusuf.
On his part, Yusuf relied so much on the old, spent forces of what remains of the so-called 'old PDP,' whose penchant for mischief and treachery is legendary. On the day it mattered, they not only refused to show up but also went into their closets.
As a matter of fact, these two friends went into the contest when they knew they were not ready and had not built any political structure to challenge the growing influence and popularity of Magatakarda Wamakko. Their venturing into this costly challenge is merely out of malice and vengeance on the seeming belief that President Goodluck Jonathan would rescue them.
Now it is very obvious that they have put their popularity to test and the result they get will continue to haunt them for the rest of their political lives. They are young politicians, who are in a mad rush to or too ambitious to get to the top without paying their dues. In a contest as that of the governorship ticket of a party, it takes more than peddling influence to emerge victorious. Without local influence and political base it is pretty difficult for any politician to make an impact and knowing too well that Gada and Sulaiman lacked these they went in to challenge Wamakko. We believe that the outcome of the primary election would open the eyes of Nigerians who attribute to these people the influence and political popularity they never had. The fact that you make the loudest noise and throw mud at people does not enhance your political fortune. It rather portrays you as only being garrulous.
The battle for the hearts and minds of the people is not fought in the media. Politicians are expected to go out and seek for people, win their hearts and appeal to them in such a way that they can trust you and repose confidence in you instead of being too conceited about the ability to do nothing. The event of the primary election should serve as a lesson to any desperate and overzealous politician that the media, which seems to be the main platform used by Gada and Sulaiman, would not make them what they are not.
The claims from the camps of the two defeated contestants that the process of electing delegates for the primary was fraught are just mere excuses of losers. These claims are totally balderdash. What they failed to tell the world is that Yusuf Sulaiman and his cohorts refused to step into Sokoto. Their foot soldiers were in Sokoto monitoring events for them, while Gada was continuously on phone with the committee members discussing the modalities for the election. None of them complained of the delegate election officially until a few hours to the primary election. The complaints were rather belated and was an afterthought, having realised the futility of their action and that defeat was staring them in the face.
Apart from being economical with the truth, it's obvious that the camps of the two are hiding one other fundamental fact. They did not show their faces at the venue.
The people they relied on are spent forces. If we may ask, where were the so-called old PDP for eight years when Attahiru Bafarawa sent them packing from Sokoto and they went into their holes, like timid rats? It should be understood that the PDP needed a new strategy and a rescue, hence the decision to invite Wamakko to the party. He therefore, came and engineered the PDP, changing its political fortune for good. If they had the influence they want people to believe, how come they could not deliver Sokoto for those eight years to the PDP?
Electoral value is what makes a politician and not empty noise.
Wamakko was brought in because of his electability. So, the way it is now, only Sokoto State is hundred per cent PDP and it is largely due to 'Alu's factor. His dominant and likable personality keeps endearing people to him and regardless of whatever his adversaries would do Allah has destined 'Alu' to be in charge of our collective destiny as a people. It is with profound gratitude to the Almighty that the enemies of Sokoto State and democracy have not succeeded in eliminating a key contestant, as part of their diabolical plans. If they had succeeded it would have been devastating and counterproductive to the PDP as a party.
We are waiting for them to team up with other 'carpet baggers' from the other political parties to wrest power from Wamakko. Their greatest problem is that they will never stop questioning what God has willed. While moving to another party to actualise their vaunting ambitions is seen as a solution to dealing their current travails, we believe it is rather adding to their woes. God will always vindicate the just.
•Garba wrote in from Sokoto.