HOW REMOVAL OF OIL SUBSIDY 'LL BENEFIT NIGERIA - GULAK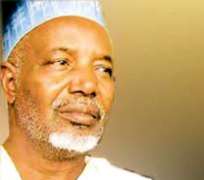 Excerpts:
What do you think is the political cost of the oil subsidy removal?
A lot of conversation is going on, and people really do appreciate the stand point of Mr. President. This country, this year alone, we have spent more than N1 trillion to subsidize PMS (Premium Motor Spirit) and this money is better deployed to other sectors of the economy.
Who are the main beneficiaries of this subsidy?
The importers and those that smuggle out this commodity through our borders to our neighbouring countries. And why should Nigeria be subsidizing PMS to our neighbouring countries?
So, is that not a failure of government?
It is not the failure of the government. You know the nature of our borders. Even if we deploy 10 million custom officers and police we will still have problems at the border crossings and you know how daring the smugglers are.
The moment this subsidy is removed, you will see that the smuggling aspect will be discouraged because if you smuggle to neighbour countries you will still sell at the same price.
In the past few years about twenty licenses have been issued to people to build refineries but they will not build because it is cheaper and better for them to import fuel and sell because government is subsidizing more than 60% of the price.
So, if the sector is deregulated then everybody can go and import and sell it at the market price. Take for instance, the GSM issue, in 2000 and 2001 when MTN came- even to get the SIM card was a problem. But when the sector was deregulated GLO came, Zain came in- now Etisalat has come in.
You now see that the GSM companies are even ready to give you SIM card free with airtime because they want to attract you. Why? It is simply because they want to attract you because the sector has been deregulated. If NITEL had been left alone, I am sure that we would not have gone this way.
But now we have over 8 million lines. In those days NITEL could only give 400,000 landlines, which were not even working properly. But when the sector was deregulated we have seen the advantage. Job opportunities have been created for millions of Nigerians.
So, the government is saying, if we deregulate the downstream sector of our economy refineries will come up. And Mr. President will call back all those original contractors that built our refineries to come and give us the turn around which they have promised. At least in four months we will optimize capacity.
The political angle is there but Mr. President has said well elections have come and gone let us not play games again, let us make this little sacrifice. In the next six months things will stabilize, fuel will be regularly available at the market price.
Will the effect of the removal not erase the gains for workers accruing from the new minimum wage?
That is what you pressmen will say will always happen and that is what opposition leaders will say will always happen, that inflation will eat up the little minimum wage. After the deregulation, in the next 3 months there will be some teething problems at the beginning.
Like I was saying, diesel was deregulated about 3 years ago and because of this subsidy most of those running luxurious busses have changed to smaller buses because it is almost given free.
And don't forget that we have over 160 million Nigerians. Even if you say let every Nigerian come and take free fuel, will that grow our economy?  Will that open up the economy? Will that create job opportunities? It will not.
There is this government campaign that this subsidy is just being eaten by a few persons, that very few people are benefiting from the fuel subsidy. Can the government not address the dislocations?
How many Nigerians own cars? But the subsidies benefit more. Those that will have 10 or 20 Jeeps benefit more than the Okada man who uses only 20 liters a week. And those smugglers who smuggle out the subsidized fuel and sell it at the high price.
What we are saying is that, if the subsidy is removed government will not be borrowing N1.4 trillion naira to subsidize- government will reduce its rate of borrowing. Because Mr. President says he will 'rather leave assets to Nigerians rather than liabilities and debts.'
He can for example borrow (to finance subsidy) and at the end of his tenure he will leave. Even if he dies, his ghost will still be a Nigerian ghost that will cry that Nigeria, with its size and population will go to small neighbouring countries to borrow money to buy PMS.
He said this must stop and have to be tailored. All he needs is support of Nigerians to take this country to the next level where jobs will be created, where the funds available will be deployed to other sectors of the economy like power.
But he didn't say he was going to remove subsidy during the campaigns?
But he said he will make that the economy will grow.
If he had said it some people would not have voted for him.
You know when you say you will develop the economy, that is the framework. If you develop the economy is the framework, all other things will come as details to enhance that growth. And that is what Mr. President has done. He has promised Nigerians that he will create job opportunities, he said he will tackle power problem, he is doing that. So this is opening up the economy.
So, what Mr. President is saying is- look we should reduce and control our borrowing, how do we do that?