DAY INDIAN DANCERS STORMED LAGOS ISLAND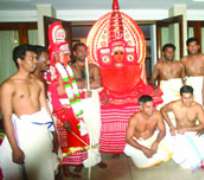 With a mission to popularize Indian culture among Nigerians, a cultural group Theyyam from the Kerala State of India recently thrilled guests in Lagos. The group entertained Nigerians and their Indian counterparts in ancient dance steps, just as it dazzled guests with Indian music at the garden of the Indian High Commission.
The High Commission of India, Indian Council for Cultural Relations (ICCR) and Indian Cultural Association, packaged the dance cum music fiesta. The show aimed at bridging the gap between Indians and Nigerian on the cultural platform as well as enhancing bilateral relations between the two countries.
Led by Shri Thumbakkol Chandu, the group which performed during the Abuja Carnival, as well as Kano and Cotonou dazzled the audience at the event that showcased different manifestations and appearances amid unique costumes and aesthetic materials.
The group originated from India and is famous with the name Theyyam. The dance involves the good souls and the bad ones and how the gods are turning around to protect the good souls. Theyyam is performed every season of the year and is performed with elaborate makeup, costume and movements.
Essentially, the dance has been widely received and is now popular among many Nigerians. It depicts one of the many historical stories of India. The organizers disclosed that the dance and music platform was chosen to popularize Indian culture in Nigeria aside promoting cultural exchange between India and Nigeria.
General Secretary, Indian Cultural Association (ICA) Chief Sanjay Jain said that the association has been in Nigeria for over 50 years. He revealed that ICA has been involved in cultural activities and charitable works for the needy, and it has done lot of charitable works including digging boreholes for various schools, building homes for the elderly , providing artificial limbs and contributing towards free eye surgeries etc.
According to Chief Jain – 85 percent of ICA activities are devoted to charity for the needy Nigerians . There are free eye operation and free artificial limbs. And many people have benefited from these philanthropic gestures, aside the cultural promotion objective. Jain informed that the cultural association, in partnership with the High Commission and Indian Council for Cultural Relations made the event possible.
It would be recalled that Theyyam is one of the most outstanding dance of North Kerala. There are so many Badavathy Kavus (Religious places ) and Thravadu ( Family Home) in Payyamur region and nearby villages where Theyyam is performed. The word Theyyam originated from Daivam, meaning Nothing but God. The Theyyam or Kolam (a form or shape) represents a mythological, divine or heroic character.
There are about 400 Theyyam, in Northern Kerala . The colorful head dresses, costumes and body painting and trance-like performances are quite extraordinary. Each of the performers had a distinct headgear and costume made out of natural materials like coconut leave and bark.