Oge Okoye, Queen Nwokoye, Rukky Mashud Paid Millions To Shave Heads As Wives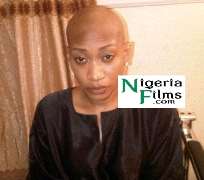 News getting to us from the grapevine confirms that two top Nollywood actresses and one top Ghanaian actress are now two digits million-naira richer as a result of money paid them by one of Nollywood producers to shave their heads to the skin in other for them to fit in the characters needed of them.
According to information available to the desk of NigeriaFilms.Com, the trio of Oge Okoye, Queen Nwokoye and Ghanaian Rukky Mashud were paid some millions of naira in the region of two digits for them to have their heads shave.
As we learnt, the trio of Queen, Oge and Rukky had their heads shaved in other to play the role of wives to a man in a new movie, whose shoot is taking place in Lagos.
Other top actresses that have had their heads shaved in the past for movie roles are Mercy Johnson, Adaora Ukoh, Stella Damasus, among others. The movie is yet to be titled, according to confirmed information getting to us.