9ice releases third album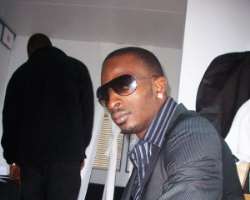 After releasing his wonder album, Gongo Aso, which propelled him to the top class among Nigerian artistes, nothing was heard of 9ice for a long time, and it was beginning to look as if he could not come up with anything else.
But as if to prove critics wrong, he says he is coming out with another album that also promises to be a hit. It is titled "Tradition".
Concerning the new album, 9ice said he would not leave any stone unturned in a bid to deliver an album that would be widely accepted.
"All is now ready for the album. We have finalised collaborations. We have mixed and mastered the album and we are good to go. December 7 is the release date," he boasted.
With collaborations from France-based Nigerian music star, Asa; Germany-based Nigerian, Nneka; Snow and Wise, 9ice said the album would contain 16 tracks.
The album which records production credits from ID Cabasa, Cheffo, Terry G and Dr. Frabz will be released under Alapomeji Records, and distributed by Soforte Entertainment.
With two songs of the album, Gbamu Gbamu and Energy, currently rocking the airwaves, 9ice said, "It goes a long way to show that when you are good at what you do, people will keep appreciating you. I came into this industry in a bid to do what I love doing, and now I have satisfaction, fulfilment and my career is booming. We have won the MOBO, MTV awards and HHWA, thanks to the support of the media and my fans nationwide. We are now very close to Grammy."
Born Abolore Akanda, 9ice first made an impression on the Nigerian music scene with his first album, Little Money. But he only got massive recognition inside and outside the country with the release of his monster single, Gongo Aso in December 2007.
Story by http://nollywoodgists.com