NIGERIAN WOMAN DELIVERS QUINTUPLETS AT LUTH HOSPITAL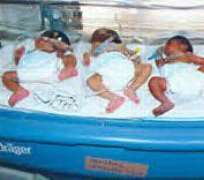 Lagos University Teaching Hospital (LUTH) delivered healthy quintuplets last Friday according to reports.
As at the time of delivery, the doctors thought the mother, Mrs Shofunlayo was delivering four babies but instead she had 5!
The five babies consist of two boys and three girls weighing between 1.5kg and 1.8 kg. The babies are currently in the neo- natal unit of the hospital while the other has been transferred to the ward.
Previous ultrasound scans showed only 4 babies and the physicians were shocked at a fifth one. "I just thank God," says an excited Mrs Shofunlayo.
Report say her husband Mr Wale Shofunlayo was by her side and more than relieved following the delivery.
This is big for the hospital since this is the first of such deliveries in the history of the 51-year old hospital. The medical team, led by a consultant in the department of Obstetric and Gynaecology, Prof Godwin Ajayi, delivered the babies safely.
Congratulations to the family !