Birthday Extravaganza Empress Njamah Steps Out With New Lover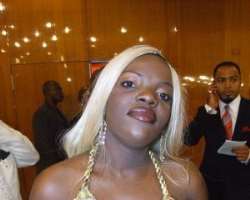 AFTER all the noise about Empress Njamah's crashed affair with the Egberi Papa one of Bayelsa, Inetimi Don, otherwise known as Timaya, the controversial actress seems to have moved ahead with life.
The petite actress we can tell you authoritatively recently stepped out with a new lover at her superlative birthday shindig that held at an exclusive pub in Lagos. This much Enquirer can reveal.
The rendezvous was the classical Aura Lounge on Adetokunbo Ademola Street, Victoria Island where the bulged eyes actress threw a lavished birthday party on November 14, 2009 and according to people in the know, the celebration was not only meant for her birthday, but to unveil the new man in her life and to give God the glory for allowing her move ahead.
The birthday gig, we gathered was bankrolled from the beginning to the end by the nouveau riche businessman who's simply identified as Daniel Uchendu and according to proper investigations, the Igbo born business tycoon is the sole distributor of Hamkook car batteries in the whole of Africa.
Popularly addressed as Ganduko by friends, the man is fair skinned, averagely tall and chubby in physique.
He was all over Empress throughout the event, even though so many people didn't know about this, the quiet man decided to go solo during the cutting of the cake because he doesn't want Paparazzi to identify him.
Though not so many people suspected, out eagle eyed reporter who had been at alert at the party added one and one together when the celebrant was having the ceremonial dance, there was this man who quietly appeared from the blues with bundles of N500 crisp notes. Exuding the confidence of a warlord or rather that of a man who knows what no one knows. Ganduko buoyantly unwrapped the N500 notes and sprayed them over Empress body.
It was at this point that, we moved in to contact those who're close to the duo and we didn't have to go farther before the hand of the Ouija was pointed at the money bag as the newest lover boy in town.
A reliable source informed that Ganduko had been in a corner waiting for an ample opportunity to get Empress whilst the relationship between her and the militant soldier was fresh and hot and no sooner the coast cleared than he (Ganduko) started showing love by lavishing gift and cash on Empress.
Story by http://nollywoodgists.com