Tricia Bombshell!I play Nigeria footballers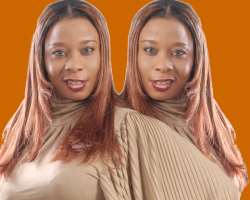 I play Nigeria footballers to appear on Bold Faces
If there is one actress who has paid her dues in the movie industry and deserves respect, that person is Tricia Eseigbe. On record, she is the first Nigerian female actress to star in Ghanaian made movies
Now a tv producer and presenter of the most successful interview programme, Bold Faces, Tricia has since given up on acting to embrace full TV production. In this interview with nfc, the beautiful lady who stunned industry watchers recently with the news of impending marriage speaks about her life, career and many more. Enjoy
How is Bold Faces?
I try as much as possible to take things easy but it's a bit rough. The fact that you are the CEO of your organisation has its own challenges.
And in recent times, it's become more challenging since I moved to Lekki but still maintain an office in Surulere.
Right now, we are working on getting some new programmes off the shelves.
We have in the offing "The Celebrity Eye", "Boldfaces Extra",
programmes that will showcase personalities in the corporate world, politicians and the people in the entertainment business.
I'm also working on 'Boldfaces Magazine' well as the 'Boldfaces International Foundation for the less privileged". This foundation kicked off in the United Kingdom.
During the cause of my interviews, I was privileged to speak with England International team goalkeeper, David James, on my show. As we got talking, he said he'd want me to be part of his foundation which focuses on agriculture, where he trains farmers and caretakers of land in Africa.
And that was how we came up with the initiative of helping children, especially the less privileged.
And we have been supported by great philanthropists like Julius Aghahowa, Joseph Yobo. They have so far given out scholarship to more than 300 children up to University level.
I also belong to an organisation called "Street Charms," a reality TV show in the United Kingdom as a media consultant from Nigeria.
And lastly, I have been praying for my enemies to be exposed because I have realised that my enemies are within me and they are beginning to unfold one by one.
Enemies you said?
Yes, "na bad bele" people. You will be surprised to see people wake up and look for ways of destroying people's name.
They wrote a false story about me on the net but it's been corrected. God revealed the people involved. They tried so hard to paint me black for reasons I know nothing about.
Are you saying you are in the black book of journalists?
Not really. The journalist that wrote the story got it from an actress and one other man in Omole Estate. And whatever story they got was a cover up. It was just unfortunate that I was used to cover up their mess. I discovered later that it was an actress that was involved and the same person happened to be my friend.
But I wondered why they had to use me to cover up their mess. Although, the Commissioner of Police gave me some of his men and I was able to do some investigation, whatever happened has been corrected. The journalist involved is highly respected.
Why did you move to Lekki?
I'd been in Surulere for years and I believe there is need for a change of environment. I had made up my mind to leave Surulere because I wanted a place that offers a natural environment and where I would be able to breathe in fresh air.
Surulere is choked up when compared to Lekki where you enjoy fresh air.
It's a place where you can think properly. It's quiet and it's easy to get inspiration. For me, that is just my reason for staying in Lekki, not for any other reason or what people call effissy.
As a top actress in Nigeria, why did you quit acting so early?
How many actresses would you say have made it from acting? It's just a few of them. And it's a pity that people have not been able to make a living out of the profession.
The Ghanaian movie industry has taken over Nollywood, and they are now picking up movie roles in the Nollywood industry.
Nigerian movies are no more selling. Marketers are not making their funds available. Nobody wants to invest in a product that wouldn't yield profit and that is really affecting the industry negatively. For these reasons, actors and actresses prefer doing other things, just to get themselves on the move.
Could bad scripts be responsible for this problem?
It could be one of the reasons why movie roles are not flowing. And it is a pity that music has taken over the movie industry in Nigeria. I was in a train in the UK and I was amazed when I noticed that some white people use Nigerian music as their ring-tones.
People are no longer interested in watching Nigerian movies. I can't remember the last time I watched Nollywood movies. I think the industry needs prayers. We need to re-organise and re-package ourselves. And that would go along way to help us.
How often do you get roles now?
I don't have such time anymore. I don't want to take any movie role anymore. But if I must, then it must be for the sake of my friends.
Maybe, your charges are scaring potential producers from you…
For me, acting is not all about money. It is more of a passion and that was the reason some of us came into the industry.
It is only recently that money started coming in. In the days of the Regina Askias, Sandra Achums and the Kate Henshaws, it wasn't money.
So, there is a possibility of you returning to Nollywood?
Of course, but I'd be coming out with my own movie. And it will be for the passion and not for the money. Right now, I don't think anyone can really pay me my money worth.
Let's talk about the challenges you face in getting the kind of people, especially footballers on your programme.
For the international footballers, you first hook up with their managers and I pay quite a lot of money to get them appear on my programme.
And these include the Nigerian players. It's not just a mere talk, it is money. There are lots of sacrifices apart from money. And I wasn't frustrated because I knew what I wanted. It is business and there was need for me to make it work.
Although, the challenges used to be more than this at the initial stage, now it's a bit easy, especially now that I have all the equipment and the fact that I also live most of the time in the United Kingdom with my family.
I have been moving from one region to the other and that is why I wouldn't know why some people would sit in one place and frame all sorts of lies against me. I have now realised that success is not easy to come by and tongues are bound to wage. And the more I concentrate on those careless talks, the more it will affect my job.
What is your relationship with the footballers?
It was very firm until devil used some people to push some funny things which were not true. They wanted to destroy the relationship between me and the footballers with envy and jealousy but they haven't been able to succeed because they more they talk, the more I get closer and stronger. That is why I pray to God everyday to expose my enemies.
Maybe, the enemies didn't think you could make a success out of the programme.
Who says you cannot get the players when you want ? But I'd say that I like it when people begin to wonder how I get my jobs done. Anyone that wants quality must strife to get quality. And if it will cost you so much to get that quality, why not!
But it's a pity that some people are stingy and lazy. And these are the same people that go about saying things that are not true. And that is the reason why some programmes don't stand the test of time. I took a bold step in doing what I'm doing.
…Or because you were having affairs with the footballers?
What affair would exist between us than my job? Why should I keep an affair with the same people I'm showcasing on my programme? Why can't people mind their business and let those who are doing their work concentrate. For me, it is my job and nothing more and I put in all my best to get the best result. The outcome is what you see on 'Boldfaces'.
You are the first female Nigerian actress to be featured in a Ghanaian movie?
Yes, and I feel so great. It was in Nigeria here. I played the lead role in that movie called, "Samadora" that made waves across Africa. And that was what launched me into the mainstream acting profession. And I was called upon by some marketers and producers who needed that same girl that played in the Samadora to play a lead role in two of their movies, "The Visitor'and 'Asibu".
When I got to Ghana, the whole place scattered. I was shown more love and appreciation in Ghana than in Nigeria. I didn't pay for anything. Everything I used there was free. They didn't want me to pay because I was an actress.
There was a place that I went to buy some clothes and the people didn't let me pay. Even in the saloon, it was a privilege for them to touch my hair and my billboards were all over Ghana. It is no longer the same, now that we have scattered it with our own hands. Today, Ghanaians don't have respect for Nigerian artistes anymore.
Are you saying Ghanaians have taken over the Nollywood industry?
Obviously and that is reflecting in all that they do. They are getting the lead roles and playing it well. Ghanaians take their jobs very seriously. I'm not saying that we don't have talents but Ghanaians are doing so well and coming up fast and if we are not careful, they will take over.
As someone who was close to JT Tom West, how would you react to controversies surrounding his estate, especially as it concerns the woman that had a son for him?
It will be difficult for me to comment on Tom West or anything that has to do with his belongings or family. He has a family and I believe they wouldn't want to be reminded of their son's death.
Well, as a woman and one whose look still commands admiration, do men still make some advances to you?
Of course, but it depends on you as an individual to open your eyes. You don't quarrel with them but you have to put them where they belong. You don't make trouble with them.
Growing up
It was very strict. I grew up in a strong Christian environment and I think that really helped in building up my character. It was just from home to school and back to my house. The driver was always there to take you to school and after lesson, he came to take us home. If was having a conversation with you as my friend, there was an extension in the other room.
So, why your choice of profession?
When I came to Lagos, I wasn't supposed to come and act. I was supposed to do my Masters Degree.
But I met a friend who was going for casting and she asked me to follow her. It was there I was picked for a role. But I rejected that role. And that was how I picked up acting. And from there, I developed the passion.
And what was the reaction of your parents,the first time you told them you were going into acting?
They didn't object to it. In fact, the person I wanted to marry left me because of the profession. He asked me to choose between himself and movie and I chose movie. And that's how we separated. I was stupid to have thrown away the relationship which I'd nursed for years. But I believe it was God's plan.
And how much were you paid the first time you acted ?
It was Samadora that launched me out and that was in 1998. And I was paid N60,000 for playing the lead role. It was actually N40,000 because after the movie sold very well, the producer gave me another N20,000 for a job well done.
Story by http://nollywoodgists.com