TROUBLE LOOMS IN KENNIS MUSIC AS GOLDIE SHUNS JAYWON'S CONCERT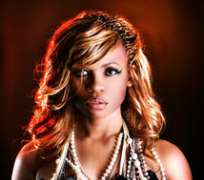 One of the record labels in music industry that have boasted of unity among its artistes is Kennis Music,a recording company that is noted to hold together all the artistes signed onto it.
However,a crack was recently noticed around the walls of this record label during the concert of its star hip hop singer,Jaywon which was tagged All 4 Jaywon and Kennis Music All Stars,which was held on Friday,December 9,2011 at Lagoon Restaurant,Victoria Island.
The show was channeled towards boosting the career of one of their own,Jaywon by all other stars in this record label.
According to an eyewitness account,every artistes signed on to Kennis Music was present and performed various tracks to support their brother,except beautiful songstress Goldie.
Her absence made few people who have witnessed the in-house unity of Kennis Music to raise an eyebrow and wonder what could be responsible for such anomaly.
Rumor mongers who hungered for answers to this amazing puzzle concluded that Goldie and Jaywon might not be best of friends,as she could not claim to have been unavoidably absent since the concert was fixed many months back