Spain Auction, German Data Lift Futures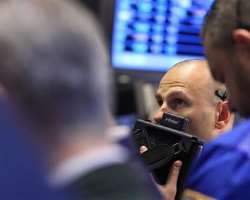 TRADERS WORK ON THE FLOOR OF THE NEW YORK STOCK EXCHANGE DECEMBER 13, 2011.
Stock index futures rose Tuesday, indicating equities will rebound from declines in the prior session as a drop in Spain's borrowing costs and unexpectedly positive data from Germany eased euro zone debt worries.
Short-term financing costs for struggling Spain more than halved as banks lapped up debt at an auction, with much of the purchasing power said to have come from cut-rate loans from the European Central Bank.
U.S. banks, plagued by concerns about exposure to the euro zone crisis, dragged U.S. stocks lower Monday, with losses accelerating late in the session. Bank of America Corp's (BAC.N) stock price fell below $5 for the first time in nearly three years.
Bank of America shares were up 2.3 percent to $5.10 and Citigroup Inc (C.N) added 1.9 percent to $25.30 in premarket trade.
Headlines and fluctuating bond prices out of the euro zone continued to spark high volatility. The market will be prone to large swings this week on expected low volume due to the upcoming Christmas holiday.
"We've seen pre-opening rallies dry out rather quickly as the mercurial mindset of investors dodges risk exposure," said Andre Bakhos, director of market analytics at Lek Securities in New York.
"The market is grasping for a tangible theme to take us positive into the new year with many remaining dour. An upside surprise would be the contrarian theme."
The Munich-based Ifo think-tank said German business sentiment rose sharply in December, defying expectations it would decline and underscoring the resilience of Europe's biggest economy.
The first-ever offer of three-year loans to banks from the European Central Bank on Wednesday is expected to be a strong indicator of whether debt-loaded countries get some relief or endure more pain.
S&P 500 futures climbed 12.8 points and were above fair value, a formula that evaluates pricing by taking into account interest rates, dividends and time to expiration on the contract. Dow Jones industrial average futures rose 100 points, and Nasdaq 100 futures added 26.25 points.
On the economic front, investors awaited housing starts and permits data for November. Economists in a Reuters survey forecast housing starts at a 635,000 annualized rate versus 628,000 in October. The data is due at 8:30 a.m. EST (1330 GMT).
AT&T Inc (T.N) lost 1 percent to $28.45 premarket after it dropped its controversial bid for T-Mobile USA, the Deutsche Telekom (DTEGn.DE) unit, bowing to fierce regulatory opposition.
After the close Monday, business software maker Red Hat Inc (RHT.N) forecast fourth-quarter revenue below expectations, hurt by a weaker euro.
Sempra Energy (SRE.N) said it expects to exceed its 2011 profit forecast.
REUTERS